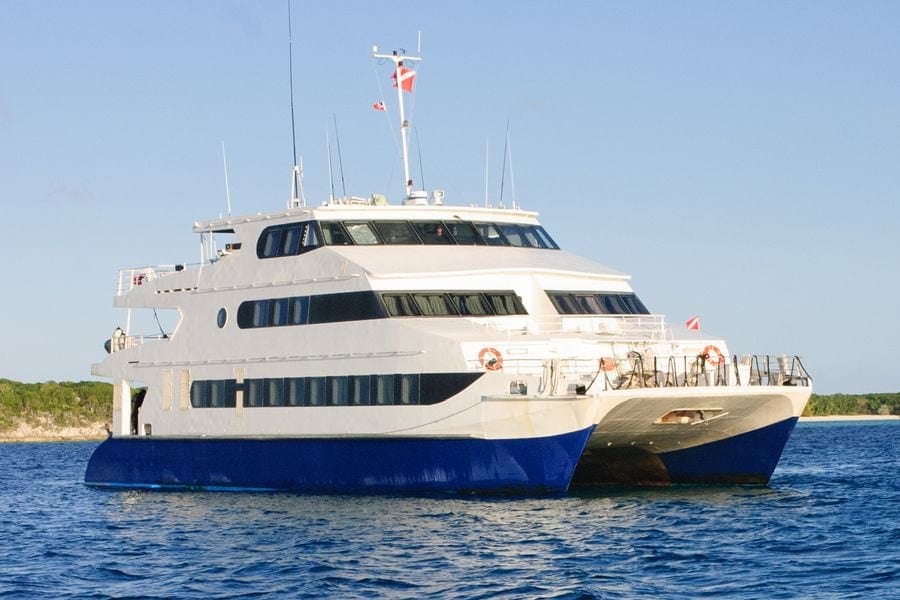 Package
Details
Liveaboard
Details
Destination
Details
Traveler
Reviews
7 Nights' accommodations, All Meals, Snacks (Except for Friday Dinner on Shore) and Beverages Including Soda, Rum Drinks, Vodka, Beer and Wine, Up To 26 Dives and Shore Excursions (Not Included Port Fees and Government Taxes)
Travel Period: Jul. 11, 2023 – Jan. 06, 2024
Price and Room Selections:
$2695 Cabin 11 (Double Occupancy)
$3195 Ocean View (Double Occupancy)
$2795 Ocean View (Triple Occupancy)
$2595 Ocean View (Quad Occupancy)
Travel Period: Jan. 06, 2024 – Jan. 06, 2025
Price and Room Selections:
$2795 Cabin 11 (Double Occupancy)
$3295 Ocean View (Double Occupancy)
$2895 Ocean View (Triple Occupancy)
$2695 Ocean View (Quad Occupancy)
Expires at 2:00pm on Tuesday December 24th, 2024
Aqua Cat
Aqua Cat is a 102ft long floating resort yacht ideal for scuba diving adventures. The vessel is based in Nassau, Bahamas and does 1 week cruise liveaboard trips. So, there are 11 guest cabins and they can accommodate from 22-30 guests. They have king, queen, twin beds, and pull-down berths. Cabins have either large view windows, or a skylight. Moreover, cabins have ensuite bathrooms with showers, ...

More Liveaboard Details
Bahamas
The Bahamas is comprised of over 2,700 islands, rocks and cays formed from coral reefs. Here, scuba diving is accessible from 2200 coastline miles on the Atlantic Ocean. It's an ecological oasis with exceedingly clear water. There are over 1,000 fish, coral, invertebrate and crustacean species. Earlier settlers were the Lucayans, Tainos and Arawak people. Spanish explorers first came to the isla...

More Destination Details
Prices starting at:
USD $ 2595
Book By:
December 23, 2023