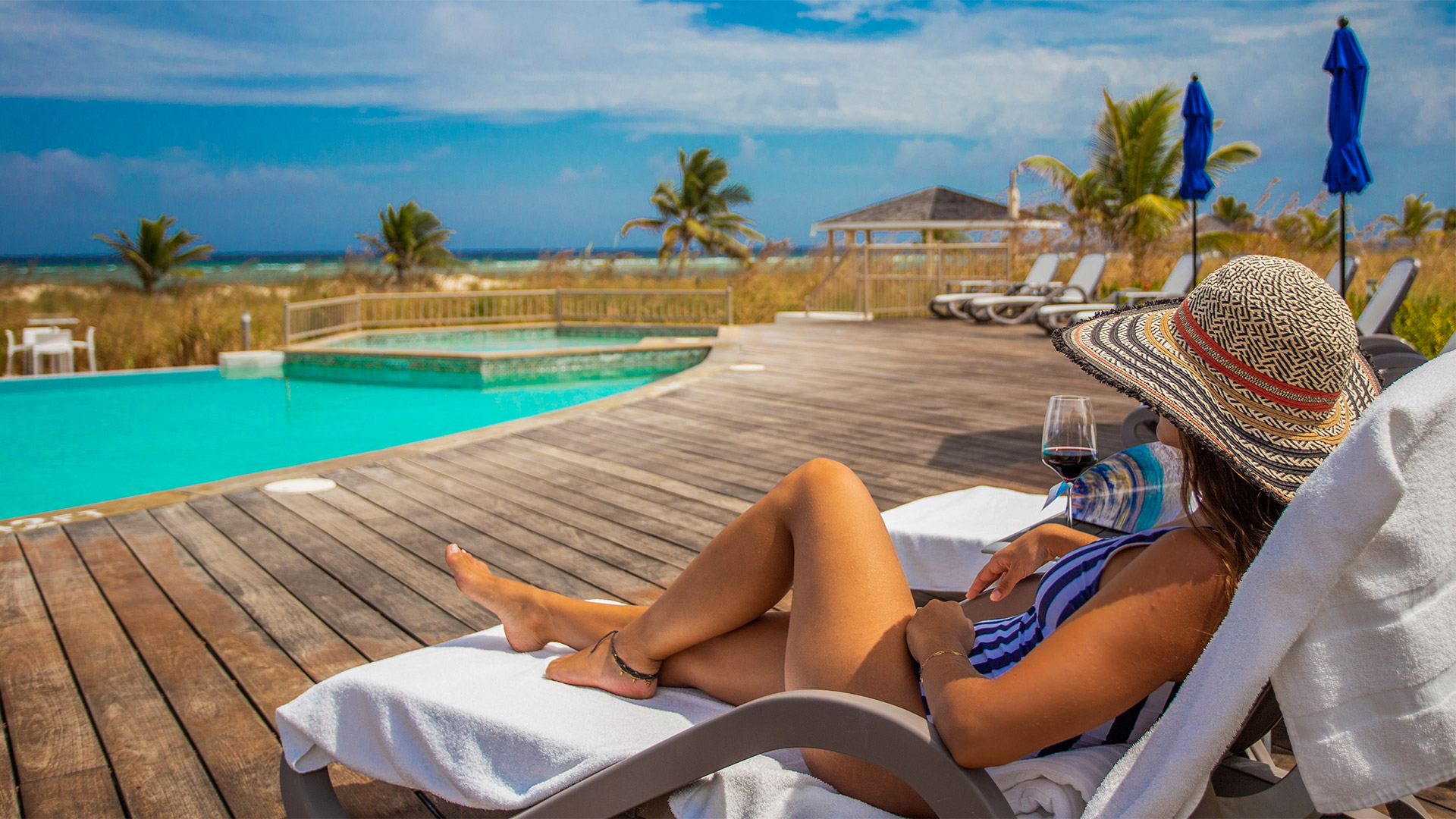 Package
Details
Resort
Details
Destination
Details
Traveler
Reviews
7 Nights' accommodations, Round Trip Airport Ground Transfers, Welcome Cocktail Reception, Daily Breakfast, Lunch and Dinner (Dinner on Arrival Through Breakfast on Departure), Drink Package (21 Drinks), 6 Days of 2 Tank AM Boat Dives, 5 Days of 1 Tank Boat Dives, Complimentary Dive Computer (Required Use During Stay), Complimentary Wi-Fi, Resort Fees, Taxes and Service Fees (Except Dive Gratuities)
Travel Period: Feb. 22, 2023 – Jan. 12, 2024
Price and Room Selections:
$2495 Standard (Double Occupancy)
$3367 Standard (Single Occupancy)
$2845 Ocean Front (Double Occupancy)
$4067 Ocean Front (Single Occupancy)
$2523 Ocean Front (Triple Occupancy)
$2362 Ocean Front (Quad Occupancy)
$2945 One Bedroom Ocean Front Suite (Double Occupancy)
$4268 One Bedroom Ocean Front Suite (Single Occupancy)
$2590 One Bedroom Ocean Front Suite (Triple Occupancy)
$2412 One Bedroom Ocean Front Suite (Quad Occupancy)
$3095 Two Bedroom Ocean Front Suite (Double Occupancy)
$2690 Two Bedroom Ocean Front Suite (Triple Occupancy)
$2487 Two Bedroom Ocean Front Suite (Quad Occupancy)
**Add On**
Nitrox Upgrade (12 Morning Boat Dives) $120 per Person
Nitrox Upgrade (Full Week Morning and Afternoon Boat Dives) $170 per Person
Expires at 2:00pm on Wednesday January 3rd, 2024
East Bay Resort
East Bay Resort is a scuba diving destination on South Caicos Island in the Turks and Caicos. The resort has 86 beachfront 1 or 2 bedroom suites that overlook 1.5 miles of private white sand beach. In addition, each suite has private balconies, fully equipped kitchens, air conditioning, washer and dryer, and free Wi-Fi. East Bay Resort offers all meal as well as ala cart plans. So, the 4 floor pla...

More Resort Details
Turks & Caicos Islands
The Turks & Caicos Islands consists of the larger Caicos Islands and smaller Turks Islands. Scuba diving predominates on extensive coral reefs that surround the Islands. As a result, there are 700 fish and 60 coral species. This British Overseas Territory is in the Lucayan Archipelago of the northern Caribbean Atlantic Ocean. There are 9 named islands and 90 small islands and uninhabited cays....

More Destination Details
Amanda L.
We seriously lucked out last week, as the resort was nearly empty between a big dive group the week prior and everyone coming in for the island's annual Regatta celebration (it's been 3 years since the last one, so the whole island was full the day we left!). The resort was super chill and beautiful. We loved enjoying our coffee from the terrace each morning, watching the sunrise and also hanging out by the pool during the afternoons after diving. Speaking of diving, we had 12 great dives, seeing turtles, eagle rays, reef sharks, plenty of eels, huge southern stingrays, and quite a few juvenile spotted drums, among plenty of other critters! We literally had the boat and dive guide, Kevin, all to ourselves 2 of the 6 days and the other days there weren't more than 4 of us diving! The Reef Divers valet service is great - it was nice not having to deal with our gear every day. 😊 We rented bikes from the resort for a few hours one afternoon - boy was it hot! I highly recommend a stop at the Dolphin Grill, which isn't far from East Bay.

Nic P.
It was personally, my first group dive trip.  I was unaware of what to expect or how to lead a trip.  The way the trip was set up (all inclusive) and the clear expectations of the packages and accommodations were easy to follow and to manage!  The rooms were all ocean view - TOP TO BOTTOM!  The food was on time, warm and delicious.  The Bartenders were creative and welcoming.  Big Sister was our home for the week and East Bay Divers and East Bay Resort became our family.  Thank you for making it so memorable!  From the custom birthday cake for a group member to the most exciting whale watching experience one could even ask for - brava!  Shout out to some of the staff CJ, Lincoln, Chef Imi, Matteo, Kevin, Carlos, Capt - anyone else I may have missed - you all are the real MVP!!

Victoria F.
After a bit of anxiety in completing all the pre-travel requirements, we arrived to find valet travel at its best! We were greeted by Lincoln & CJ with great smiles & friendly faces…that was only the beginning of what turned out to be a wonderful dive vacation. Not having to lug my own luggage & dive gear to & from both accommodations & dive boat was a major plus! The resort itself was meticulously kept clean & eye pleasing, the staff very friendly as well as helpful from the bar to the grounds keepers! The gorgeous private beach was perfect for my very early morning walks. The rooms with private bathrooms in our suite was beyond my expectations. The chef prepared excellent feasts for all 3 meals daily & my group clued him that is was my birthday while there...he and the wait staff presented me with a delicious chocolate cake to share with my LDC friends. Weather kept us from diving for the 1st couple of days but was great once we were able to get in the water. Reef Divers continues to exemplify valet diving at its best! We had some rough waters getting out of & back into our boat a bit tricky, our dive staff made sure we were safe & able to accomplished both with minimal stress. The diving itself was also great! From check in…to check out, the entire trip was one of the best I've had in my over 10 years of diving adventures!

Prices starting at:
USD $ 2362