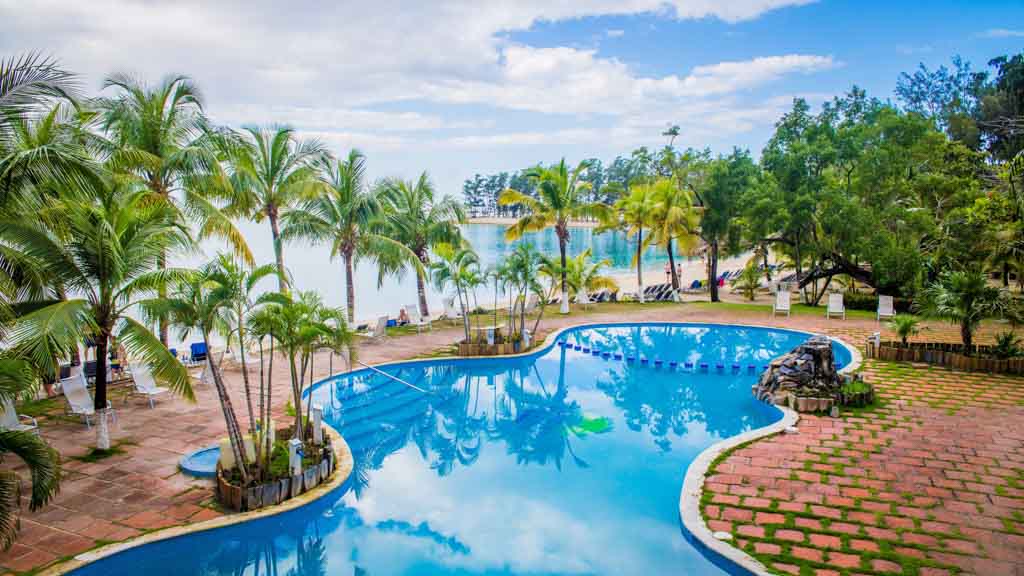 Package
Details
Resort
Details
Destination
Details
Traveler
Reviews
7 Nights' accommodations, Round Trip Airport or Ferry Transfers, Welcome Drink, Daily Breakfast, Lunch, Dinner and Twice Daily Snacks, Unlimited Drinks Including House Alcoholic Beverages Between 10:00am-10:00pm, 3 Boat Dives Daily, 1 Night Boat Dive, Unlimited Shore Diving, Tanks, Weights and Belts, Government Hotel Taxes
Travel Period: Jul. 12 – Dec. 31, 2023
Prices:
$899 (Double Occupancy)
$1299 (Single Occupancy)
$799 (Triple Occupancy)
Expires at 2:00pm on Thursday December 21st, 2023
Fantasy Island Beach Resort
Fantasy Island Beach Resort is a scuba diving hot spot in French Harbour, Roatan, which is part of the Bay Islands off the coast of Honduras. The resort has 115 rooms that range from Basic to Superior with a balcony. You have a choice of a king, queen, double or single beds. The rooms come with a mini fridge, TV, ceiling fan, air conditioning, and private bathroom. You'll want to bring a beach tow...

More Resort Details
Honduras
Honduras is a Central American country with a long Caribbean Sea coastline. The Bay Islands are a scuba diving destination that's part of the 1,000km-long Mesoamerican Barrier Reef also known as the Great Mayan reef. The reef system is home to more than 65 species of corals, 350 mollusk species and over 500 fish species. In the tropical rainforest, the ancient Mayan ceremonial site Copán has ston...

More Destination Details
T. & R.
We loved our trip to Roatan. The scuba diving was great and I especially enjoyed the monkeys at Fantasy Island. They were fun to watch and interact with. I am sure we will return. Thanks for all you did in making our trip possible.

Roger
I took a group to Fantasy Island 10 years ago and was unhappy with it. Since then, I've taken groups to different resorts in Roatan 5 other times. When Maduro Dive Fanta-Seas found me a special low price, I decided to return to Fantasy Island without a group, but with my daughter, and give it another try. I was very pleased with the improvements they have made. They make a great effort to keep the insects down, particularly the no-see-ums, which are bad overall on the island. They continuously spray, rake and drag a plow over the sand to disturb the eggs. I quit using repellant after 3 days and had only 4 insect bites the whole week. An optional shark dive offered through another outfit, but coordinated with F.I., was a huge success. There were a good 2 dozen grey reef sharks within touching distance, making for great photo ops. Good food was served buffet-style. Clean, motel-style rooms with air conditioning and TV made for a comfortable stay. Would I return?....You bet!

Norma
Personally I would set a trip up to Fantasy Island every year. You get the most for your dollar, especially now since drinks are included, the price is right! It's so easy to get to. We leave Cleveland at 7:00 and are in Roatan by 11:30. How can you beat that! Food is plentiful and the Diving is some of the best I've ever done.

Mary-Lou
I had a great time at Fantasy Island. The room was OK, clean and a good location. The diving was easy, warm water (most important to me) and even though they had 8 boats and 130 divers it was never crowded or hectic. The shore diving is nice and the food is great. Not so sure about all the pesticides (I think that is what they were spraying) that got sprayed every morning. Some has to wash into the ocean. They might spray before anyone is up so the spray has settled. I'd definitely go again.

M.
We had an AMAZING time at Fantasy Island. The people of Roatan are not only happy but extremely helpful in every way! From the time we landed to the time we left we were treated with the up most kindness at the resort. our dive master, and the boat captain, were truly great men and love what they do for a profession! The rooms were clean; the food was delicious and the diving was out of this world! Our goal was to find the sea horses and not only did we find them we found several of them. We saw a great amount of marine life from Angel Fish, Barracuda, Flamingo Tongues to a variety of eels, tangs, and octopi. This was a truly amazing trip! We too, went on a shark dive as well as the canopy tour through the rain forest and it was all worth it!

Jason
The trip was good overall. The resort is a bit dated but they are working on upgrades. The rooms were larger than expected. My room had a problem with the ac but was attended to immediately. Another room had the ac fail as well and they were moved to another room immediately. There were plenty of choices for food and it was all pretty good. Not gourmet but very much edible and filling. The diving was good, as always in Roatan. Rea was very helpful at the dive shop. She made sure that I had everything that I needed to teach my courses. The dive masters were not the best. Role call on the boats was ignored most days and things were a bit unorganized. The dive masters did more of a tour rather than finding interesting things for guests to see. But they were kind. I have had some great service on boats so maybe I am a little picky. Overall the experience was good. All of my guests had a good time and thought that they got good value for the money. I will definitely use this place in the future as the teaching area is perfect for open water students.

Linda
We were there for one week in the middle of February. This was our second time visiting there. The food was better this year. Last year it was overly salted. We had a group of 10 people, we were happy with our rooms which were close to the dive shop. The beach was clean and we enjoyed it. We enjoyed the all inclusive alcohol. We were injured on a broken board on a walk way to the gazebo, we let the woman at the front desk know. Unfortunately the next night in the low light we saw some one else seriously injured on the same board. We complained again. It was fixed after the second injury. The monkeys were fun, except two of them got into our room and stole some stuff including prescription medications. They are very fast and a little scary. The diving was great and we dove 4 dives a day. We saw a few moray eels and quite a few fish. Not as many fish as we see in Cozumel. The staff was friendly.

Chris
Fantasy Island Not a fancy resort. Very dated. A two star place. But a good location to dive. This is my second time. Though the price went up from the first time. If it goes up again I will not return.

Christopher
Fantasy Island is a good choice for a single diver and that as long as they market themselves as 2 or 3 star hotel is fine. All clean, good basic food and excellent dive operation were his comments.

Besty
We had a fabulous time - Chris our teacher was really amazing - so patient thorough and kind! We couldn't have asked for a better experience and the diving was fabulous - we would highly recommend the experience - thanks!

Cheryl
We had a great time in Roatan. It was so nice to have the week together with nothing to do but enjoy ourselves! The diving was awesome, and the dive shop staff was wonderful and so helpful. We had some issues with our dive rental equipment that we brought with us, and the shop was very accommodating. We enjoyed the fresh pineapple, watermelon, and cantaloup on the boat after the morning dives. Pedro, the boat driver, cooked the caught lion fish and it tasted great, but Hailey told him that she couldn't eat it because of the flour. The next morning he brought cooked lion fish that Hailey could eat. That was so awesome! They have 2 new dive boats that are great to dive from, and a third to be delivered next week. It is a wonderful tropical resort and in an awesome location. The beaches are beautiful! It is a shame that they let it get so run down. If you book another client there, make sure that they are aware that it is not in pristine shape, but I think that the price reflected that. We saw that they are working on the rooms. The food was not gourmet, but it was good and lots of variety. I think it was traditional Honduran cuisine, which we enjoyed. We like to eat what the locals do! The bugs were bad! Tell clients to bring one bottle of insect repellent per person per week and spray morning, noon and night! I am still itchy! Transportation to the resort, and check in was great. We were put in 2 rooms next to each other, with a great view. Me, being the some what paranoid mother was uneasy about them not being adjoining. I mentioned it to ? and she said that they had adjoining rooms and showed them to us. We moved the next day, and it was so much more convenient! We really enjoyed how friendly and personable the entire staff was. If you book future clients, please warn them that credit cards are only somewhat accepted. Take cash for tips and incidentals. The rooms were large. The beds were comfortable. The tile workmanship was not perfect.

S. & G.
The room was fine. It was clean with pergo floors and lots of hot water in the shower. The diving was good with lots of good wall dives. It is true that all dives only had only one dive master and one boat captain and up to 18 divers on one boat. Those dives were very crowded. We did 17 dives and were not able to do the night dive. About 4 of the 17 dives were very crowded and about as many had less than 10 divers. We saw sting rays, moray eels and a high variety of coral, but not any real big fish. The staff was friendly and cheerful, but did not speak much English except at the front desk where they were very helpful. The dive master and the boat captain were very helpful and helped us get into the water with the heavy scuba gear. They spoke English and Spanish very well and were even speaking Italian. The resort did a good job of grooming the beach sand so that there were very few sand fleas if any. The winds were blowing also keeping the insects down. Fantasy Island is on the windy side of the Island, so it is also cooler. They had a few nights with entertainment that was good. We liked the fire dancers the best. The food was good with lots of homemade deserts, vegetables and fair fish choices. Overall it was a good vacation.

Prices starting at:
USD $ 799