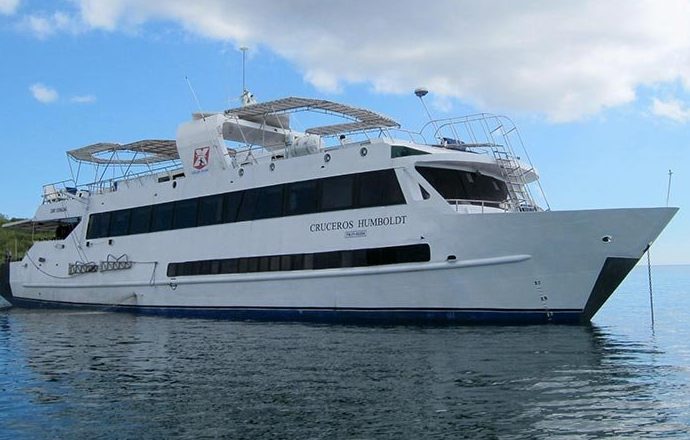 Diving Activities
Drift Diving
Great White/Hammerhead/Tiger Sharks
Macro Life
Manta Rays
Nitrox
Whale Migration
Whale Shark
See More Diving Activities
Package
Details
Liveaboard
Details
Destination
Details
Traveler
Reviews
$1000 Off Rates!
7 Nights' Stateroom accommodations (Double Occupancy), Round Trip San Cristobal Airport Transfers, 3 Meals Daily (Except Sunday's Evening Meal), Local Alcoholic and Non-Alcoholic Beverages, Up To 4 Dives Daily (Weather Permitting), (Not Included Galapagos National Park Fee, Chamber Fee, Tourist Card)
Travel Periods:
Mar. 13 – 20, 2023
Apr. 17 – 24, 2023
May 08 – 15, 2023
Jun. 05 – 12, 2023
Jul. 03 – 10, 2023
Sep. 11 – 18, 2023
Oct. 23 – 30, 2023
Dec. 25, 2023 – Jan. 01, 2024
Prices Starting at $5195
Expires at 2:00pm on Tuesday December 26th, 2023
Humboldt Explorer
The Humboldt Explorer is 111ft long and has 8 cabins for a total of 16 scuba diving guests. The cabins have air conditioning, private bathrooms, ocean views, and flat screen tv's. They also have a crew of 7, plus two guides and the vessel is based in the Galapagos Islands. You can fly to the islands from Guayaquil or Quito, Ecuador. Enjoy our blog article on these 15-18 main islands; The Galapagos...

More Liveaboard Details
Galapagos Islands
The Galapagos Islands have led us to a completely new understanding of how species can radiate outwards and fill a wide variety of different niches. So, the name of the islands comes from the Spanish name for the endemic giant tortoises that inhabit the islands. The tortoises on each island have their own particular shell shape exclusively adapted for life on that particular island. Many of the cr...

More Destination Details
Prices starting at:
USD $ 5195
Book By:
December 21, 2023