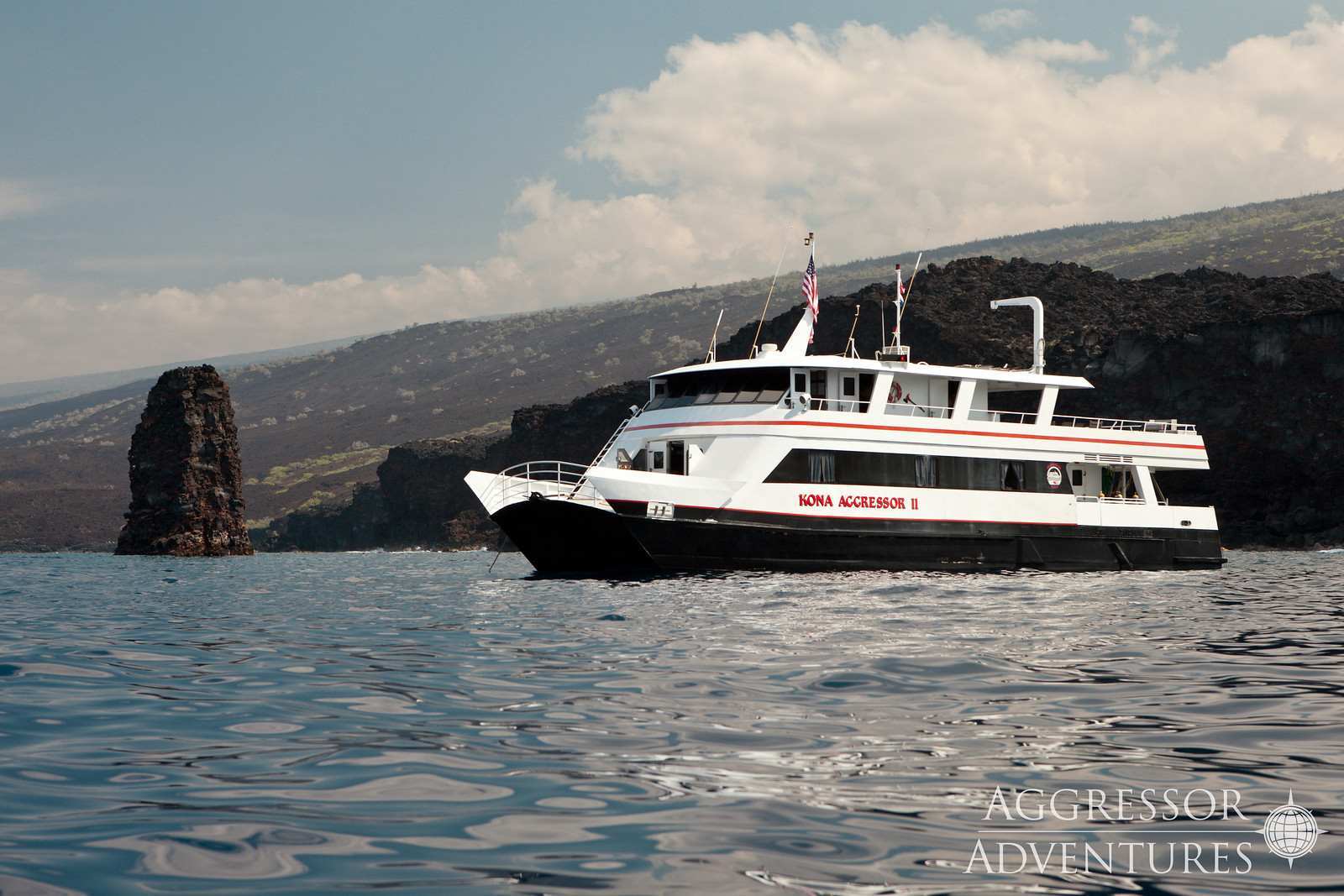 Diving Activities
Caverns
Great White/Hammerhead/Tiger Sharks
Macro Life
Manta Rays
Nitrox
Wall Diving
Whale Migration
Wreck Diving
See More Diving Activities
Package
Details
Liveaboard
Details
Destination
Details
Traveler
Reviews
7 Nights' accommodations, All Meals (Except Friday Night Dinner On Shore), Snacks, Fruit Juices, Soft Drinks, Iced Water, Iced Tea, Coffee and a Limited Selection of Local Beer and Wine (Which are Complimentary), Due to Local Regulations (The Bar Will Be Closed When Diving and When the Boat is Tied to the Kailua Pier), An Average of 27 Dives (4 to 5 Dives per Day Depending on Weather and Itinerary) (Not Included Transfers)
Travel Period: Sep. 28, 2021 – Jan. 04, 2025
Price and Room Selections:
$3035 Quad Cabin
$3235 Deluxe Cabin
**Money Saving Discounts and Single Occupancy Rates Available for Those Who Qualify – Call For Details**
Expires at 2:00pm on Tuesday December 24th, 2024
Kona Aggressor II
Kona Aggressor II is an 80ft long scuba diving live aboard vessel based out of Kona, Hawaii. The 28ft wide catamaran has 6 air conditioned staterooms with ensuite bathrooms. 5 deluxe staterooms have a double bed and a single (upper) bed.  The 1 quad stateroom comes with two full beds and two single beds. So, the Kona Aggressor II takes a maximum of 14 divers to some of the best dive sit...

More Liveaboard Details
Hawaii
The State of Hawaii is a scuba diving destination 2,000 miles SW from the mainland of the United States. The Hawaii archipelago consist of 137 islands and is 1,500 miles long. However, there are only 8 main islands. The largest population of Hawaiians are on the island of Oahu. Ironically, the second largest group of Hawaiians live in or near Las Vegas, Nevada. The islands were first populated by ...

More Destination Details
Robert
It was even better than expected. Underwater was great and the above water was more lush than Hawaii. Also, they put my wife and I in the beach rooms....

Prices starting at:
USD $ 3035
Book By:
December 24, 2024