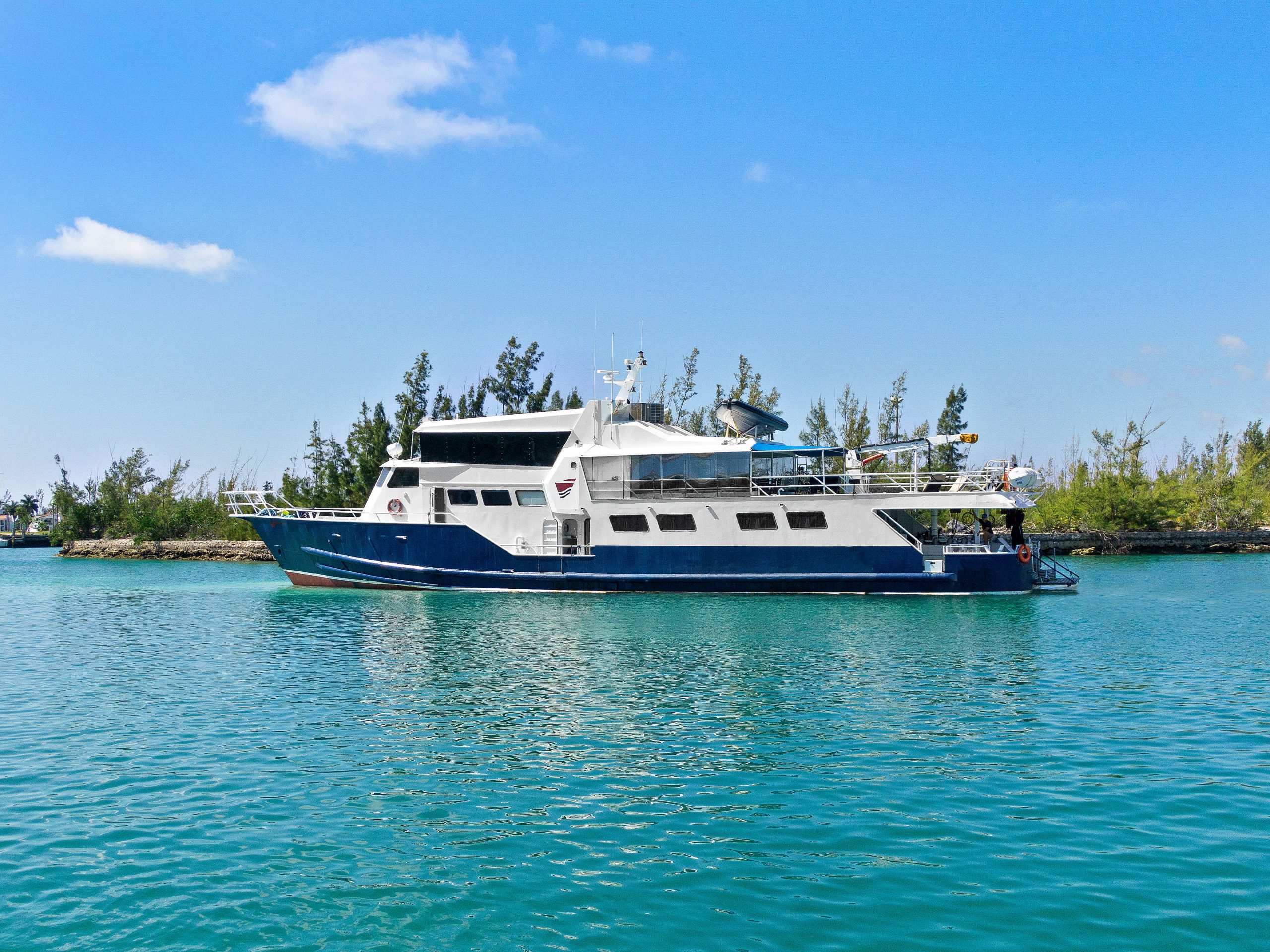 Diving Activities
Great White/Hammerhead/Tiger Sharks
Manta Rays
Nitrox
Rebreathers
Wall Diving
Whale Migration
Whale Shark
Wreck Diving
See More Diving Activities
Package
Details
Liveaboard
Details
Destination
Details
Traveler
Reviews
20% Off!
7 Nights' accommodations, Daily Breakfast, Lunch and Dinner, Between Dive Snacks and Unlimited Soft Drinks, Fruit Juices, Tea and Coffee While Onboard, 3 Dive Days and 1 Night Dive Daily Conditions Permitting (Not Included are Marine Park and Port Fees)
Travel Periods:
Oct. 21 – 28, 2021
Nov. 09 – 16, 2021
Dec. 07 – 14, 2021
Dec. 23 – 30, 2021
Price and Room Selections:
$2632 Standard (Double Occupancy) **Save $518 per Person**
$2884 Classic (Double Occupancy) **Save $546 per Person**
$3080 Premium (Double Occupancy) **Save $560 per Person**
Expires at 2:00pm on Monday December 20th, 2021
M/V Bahamas Master
M/V Bahamas Master is a 135ft long scuba diving yacht based in the Bahamas. This liveaboard vessel has 8 guest rooms and can accommodate 16 divers/guests. There are three cabin styles. Two Premium Double State rooms are on the forward main deck and come with ensuite bathrooms and panoramic windows. 6 cabins are on the lower deck and have port windows. Two Twin State rooms come with an ensuite bath...

More Liveaboard Details
Bahamas
The Bahamas is comprised of over 2,700 islands, rocks and cays formed from coral reefs. Here, scuba diving is accessible from 2200 coastline miles on the Atlantic Ocean. It's an ecological oasis with exceedingly clear water. There are over 1,000 fish, coral, invertebrate and crustacean species. Earlier settlers were the Lucayans, Tainos and Arawak people. Spanish explorers first came to the isla...

More Destination Details
Prices starting at:
USD $ 2632
Book By:
December 20, 2021