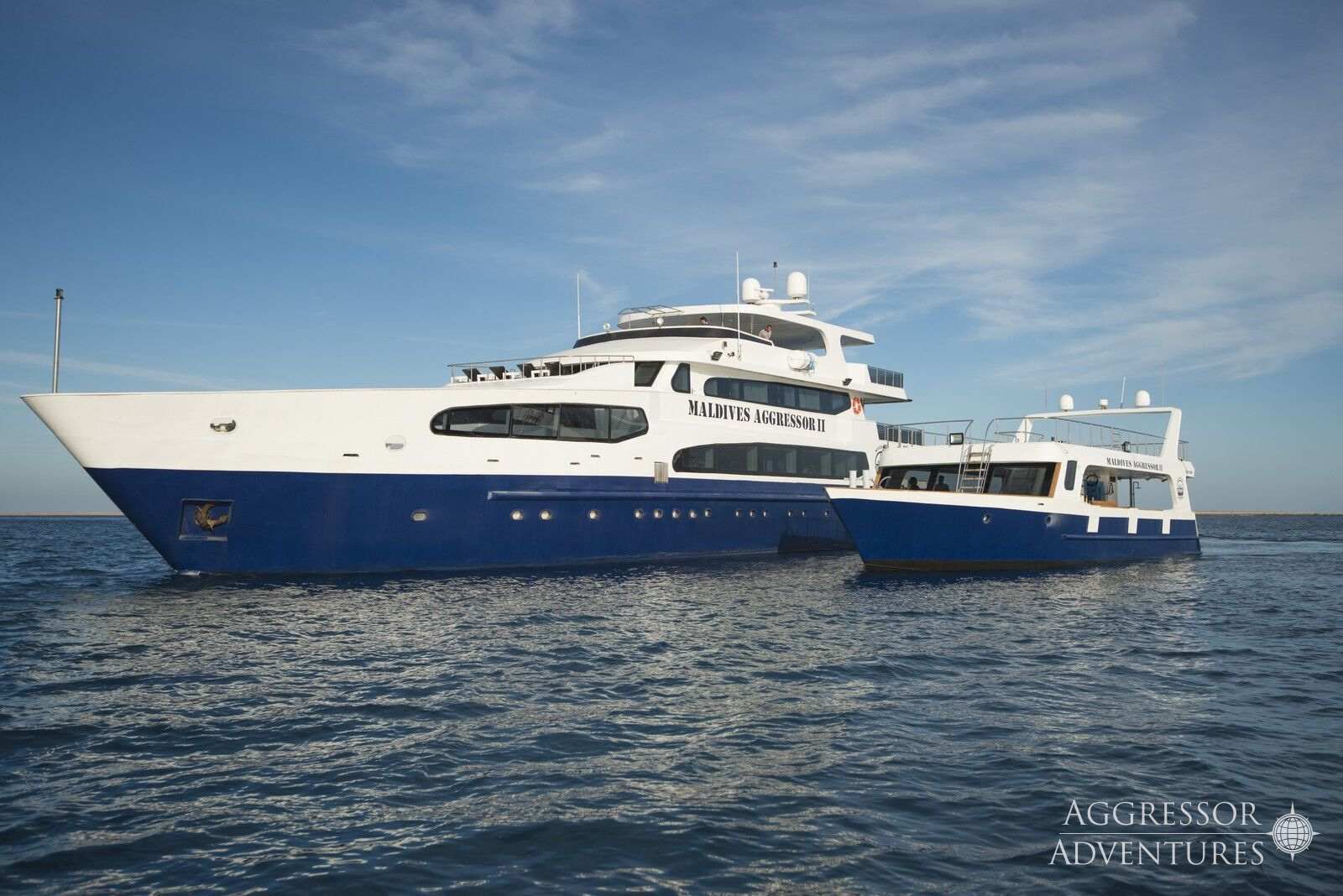 Diving Activities
Drift Diving
Great White/Hammerhead/Tiger Sharks
Macro Life
Manta Rays
Nitrox
Wall Diving
Whale Migration
Whale Shark
Wreck Diving
See More Diving Activities
Package
Details
Liveaboard
Details
Destination
Details
Traveler
Reviews
On Board accommodations (Double Occupancy), Scheduled Airport Transfers, All Meals, Snacks, Non-Alcoholic Beverages, Local Beer and Wine, An Average of 18 Day/Night Dives, Optional Male City Walking Tour (Not Included Port and Park Fees)
7 Nights' Itinerary
Travel Period: Jul. 13, 2023 – Jan. 07, 2024
Price and Room Selections:
$3080 Twin
$3220 Deluxe
$3920 Suite
Travel Period: Jan. 07, 2024 – Jan. 05, 2025
Price and Room Selections:
$3330 Twin
$3480 Deluxe
$4180 Suite
10 Nights' Itinerary
Travel Period: Jul. 13, 2023 – Jan. 07, 2024
Price and Room Selections:
$4400 Twin
$4700 Deluxe
$5600 Suite
Travel Period: Jan. 07, 2024 – Jan. 05, 2025
Price and Room Selections:
$4750 Twin
$5050 Deluxe
$5950 Suite
**Money Saving Discounts and Single Occupancy Rates Available for Those Who Qualify – Call For Details**
Expires at 2:00pm on Wednesday December 25th, 2024
Maldives Aggressor II
Maldives Aggressor II is a scuba diving liveaboard vessel based on Male Atoll in the Maldives in the Indian Ocean. It has 11 lavish staterooms, each with private bathrooms and air conditioning. The lower deck staterooms have view port holes, while the upper deck deluxe rooms have picture windows, and the suite stateroom has a panoramic window. Enjoy our blog article; The Maldives: A Garland of Isl...

More Liveaboard Details
Maldives
The Maldives, officially the Republic of Maldives, is a country in South Asia. It's located in the Arabian Sea of the Indian Ocean. Scuba diving here means encountering pelagic and abundant marine species. The country consists of 26 atolls. Live coral reefs comprise the atolls. Furthermore, within these atolls are a total of 1100 small islands. There are navigable channels thru these atolls and is...

More Destination Details
Prices starting at:
USD $ 3080
Book By:
December 25, 2024