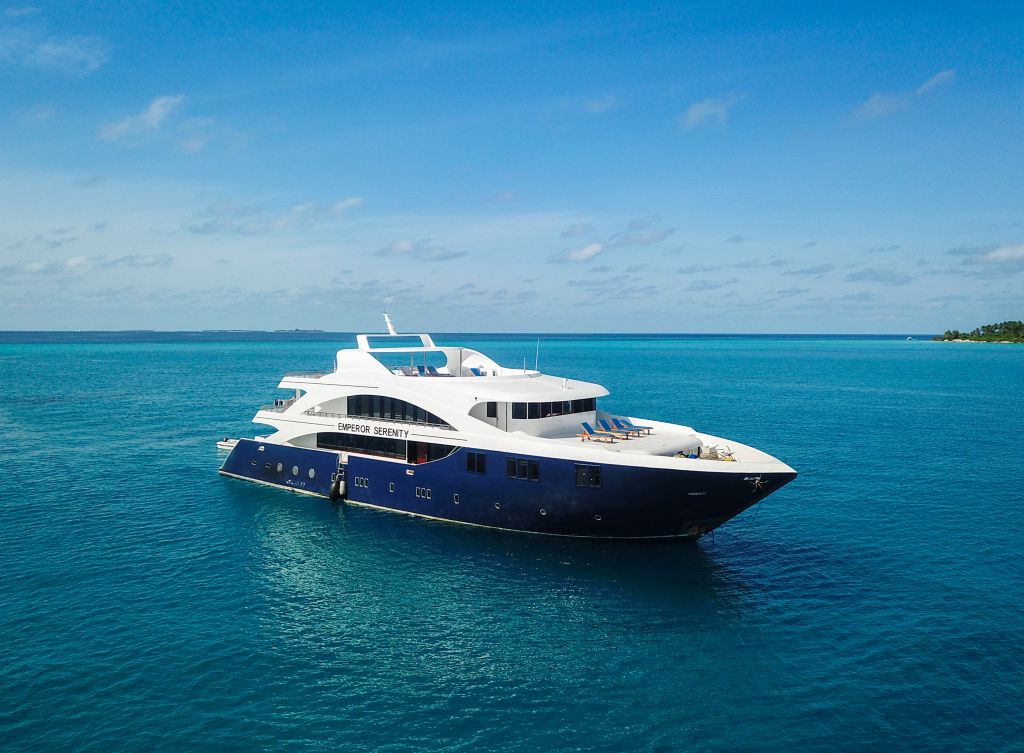 Package
Details
Liveaboard
Details
Destination
Details
Traveler
Reviews
10 Nights' accommodations, Scheduled Round Trip Male Airport Transfers on Day of Embarkation/Disembarkation, 3 Meals per Day Including Afternoon Snacks and 1 BBQ Night on a Local Island (Subject to Route and Weather Conditions), Unlimited Drinking Water, Tea and Coffee, 17 Dives per Week (2-3 Dives per Day), No Diving on the First/Last Day, Including Guide, Tanks and Weights, Complimentary Nitrox, Optional Land Visit (Upon Request, Excluding Deep South Routes), All Local Fees and Taxes (Not Included Fuel Surcharge for Central South and Deep South Itineraries)
Travel Period: Feb. 22 – Apr. 30, 2023
Price and Room Selections:
$3339 Lower Deck Dbl Cabin (Double Occupancy)
$5009 Lower Deck Dbl Cabin (Single Occupancy Guaranteed)
$3553 Lower Deck Cabin (Double Occupancy)
$5330 Lower Deck Cabin (Single Occupancy Guaranteed)
$3887 Main Deck Suite (Double Occupancy)
$5831 Main Deck Suite (Single Occupancy Guaranteed)
$3807 Upper Deck Cabin (Double Occupancy)
$5711 Upper Deck Cabin (Single Occupancy Guaranteed)
$3977 Upper Deck Suite (Double Occupancy)
$5966 Upper Deck Suite (Single Occupancy Guaranteed)
Travel Period: May 01 – Sep. 30, 2023
Price and Room Selections:
$2841 Lower Deck Dbl Cabin (Double Occupancy)
$4262 Lower Deck Dbl Cabin (Single Occupancy Guaranteed)
$3055 Lower Deck Cabin (Double Occupancy)
$4582 Lower Deck Cabin (Single Occupancy Guaranteed)
$3389 Main Deck Suite (Double Occupancy)
$5084 Main Deck Suite (Single Occupancy Guaranteed)
$3309 Upper Deck Cabin (Double Occupancy)
$4964 Upper Deck Cabin (Single Occupancy Guaranteed)
$3479 Upper Deck Suite (Double Occupancy)
$5219 Upper Deck Suite (Single Occupancy Guaranteed)
Expires at 2:00pm on Wednesday September 20th, 2023
MV Emperor Serenity
The MV Emperor Serenity, built in 2016, is a 40m long scuba diving yacht that is based out of Male Atoll in the Maldives. The vessel has 13 large cabins and suites and can hold up to 26 guests. Each cabin and suite has an en-suite bathroom and air conditioning. Diving is done from the dhoni tender where you set gear up once for the week. Enjoy our blog article; The Maldives: A Garland of Islands. ...

More Liveaboard Details
Maldives
The Maldives, officially the Republic of Maldives, is a country in South Asia. It's located in the Arabian Sea of the Indian Ocean. Scuba diving here means encountering pelagic and abundant marine species. The country consists of 26 atolls. Live coral reefs comprise the atolls. Furthermore, within these atolls are a total of 1100 small islands. There are navigable channels thru these atolls and is...

More Destination Details
Prices starting at:
USD $ 2841
Book By:
September 20, 2023