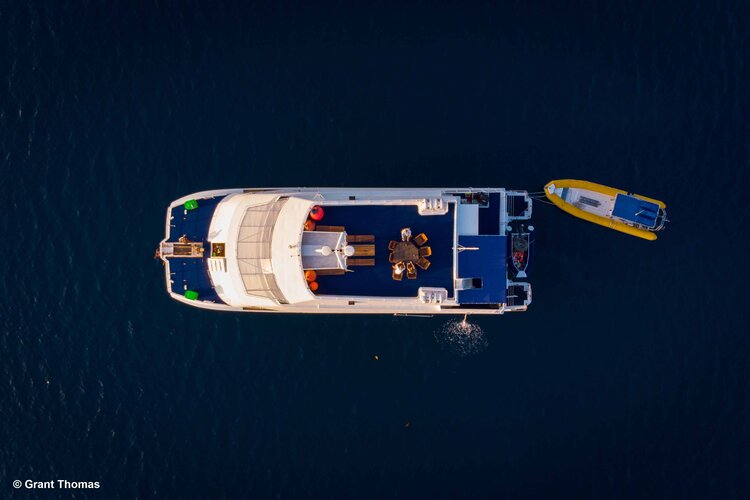 Diving Activities
Caverns
Drift Diving
Great White/Hammerhead/Tiger Sharks
Macro Life
Manta Rays
Muck Diving
Nitrox
Wall Diving
Whale Migration
Whale Shark
Wreck Diving
See More Diving Activities
Package
Details
Liveaboard
Details
Destination
Details
Traveler
Reviews
On Board accommodations (Double Occupancy), All Meals, 4 or 5 Dives per Day, Filled Tanks, Weights and Weight Belt, Airport Transfers on Day of Departure and Disembarkation, Final Night Dinner at Walindi Resort or On Board Depending On Itinerary, Light Laundry Daily
Travel Period: Jul. 22 – Dec. 31, 2022
8 Nights' Itinerary
Price Range: $3990 – $4300
9 Nights' Itinerary
Price: $5200
10 Nights' Itinerary
Price: $5600
Expires at 2:00pm on Wednesday December 14th, 2022
MV Oceania
MV Oceania is an 88ft long scuba diving catamaran based out of Walindi Plantation Resort. This resort faces the Bismarck Sea and is located on New Britain Island in Papua New Guinea. The aluminum hull yacht has 8 cabins for up to 18 guests. 3 of the cabins have queen beds and 5 are twin birth rooms. All cabins have ensuite bathrooms, individual air conditioning control. Furthermore, all cabins are...

More Liveaboard Details
Papua New Guinea
Some of the best locations for scuba diving in Papua New Guinea include Tawali, Tufi, Lissenung, and Walindi. So, humans first appeared in PNG some 50-70,000 years ago. There are over 840 spoken languages on this 2nd largest island in the world. They also have 730 species of birds including 41 species of the Bird of Paradise. Moreover, they have over 2200 species of reef fish. The war with the Imp...

More Destination Details
Prices starting at:
USD $ 3990
Book By:
December 14, 2022