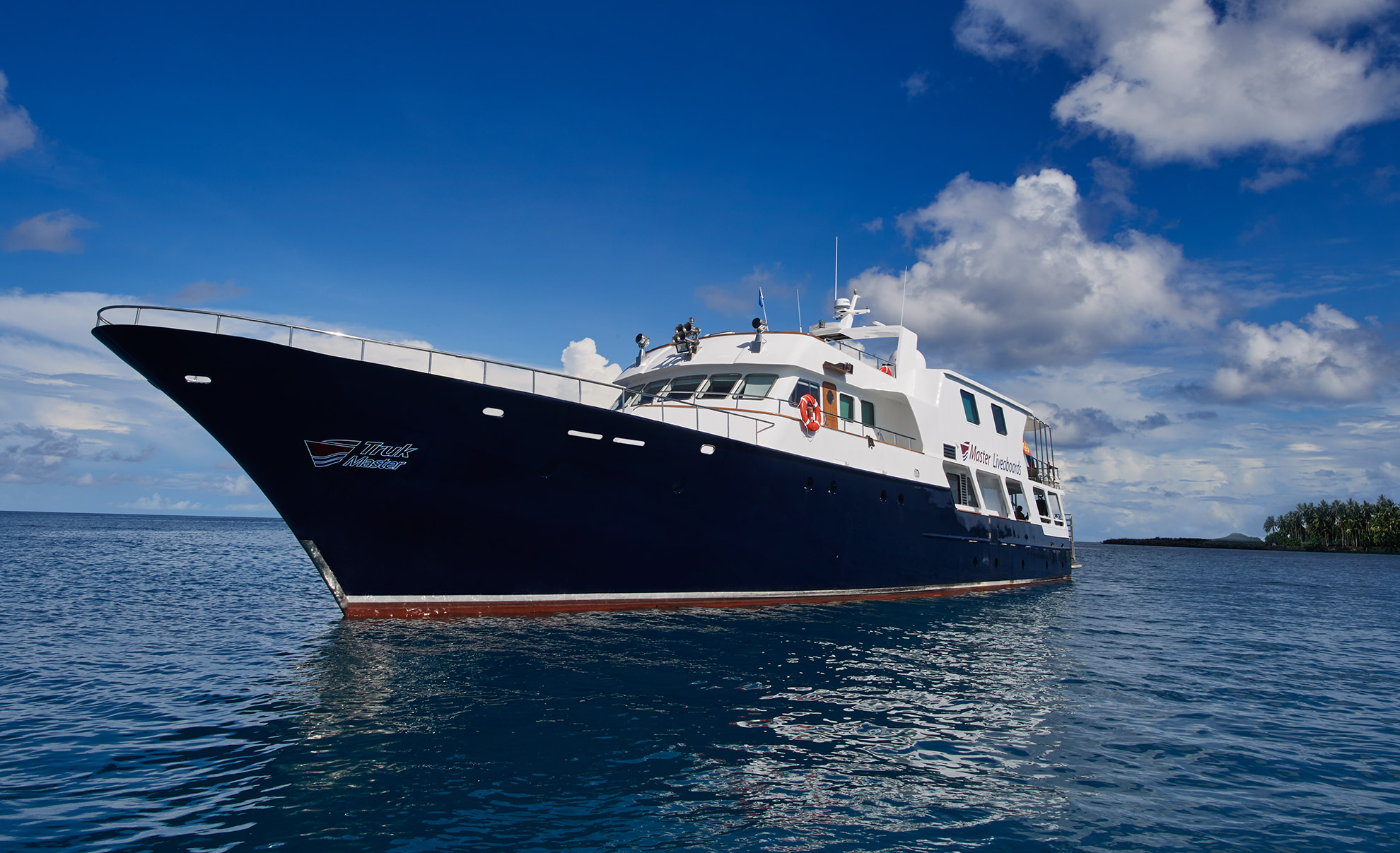 Package
Details
Liveaboard
Details
Destination
Details
Traveler
Reviews
Accommodations, Round Trip Airport or Local Hotel Transfers on First and Last Day of Charter, 3 Meals Daily, Snacks and Unlimited Soft Drinks, Fruit Juices, Teas and Coffee, Up To 4 Dives Daily (Not Included Marine Park Fees)
Travel Period: Sep. 28, 2021 – Jan. 08, 2022
Price and Room Selections:
7 Night Itinerary Prices:
$3200 Classic (Double Occupancy)
$3300 Premium (Double Occupancy)
$3500 Superior (Double Occupancy)
9 Night Weno/Weno Itinerary Prices:
$3900 Classic (Double Occupancy)
$4035 Premium (Double Occupancy)
$4300 Superior (Double Occupancy)
9 Night Dirty Dozen Itinerary Prices:
$5450 Classic (Double Occupancy)
$5450 Premium (Double Occupancy)
$5450 Superior (Double Occupancy)
10 Night Weno/Weno Itinerary Prices:
$4450 Classic (Double Occupancy)
$4600 Premium (Double Occupancy)
$4900 Superior (Double Occupancy)
10 Night Dirty Dozen Itinerary Prices:
$5900 Classic (Double Occupancy)
$5900 Premium (Double Occupancy)
$5900 Superior (Double Occupancy)
Expires at 2:00pm on Tuesday December 28th, 2021
MV Truk Master
MV Truk Master is a 91ft long scuba diving yacht. They have 8 cabins with ensuite bathrooms and air conditioning. 3 cabins are on the lower deck, 4 on the main deck, and 1 on the upper deck. The vessel was renovated in 2016. So, they can hold up to 16 guests, but allow 12 divers only per trip. MV Truk Master has itineraries for Truk Lagoon for 7 or 10 nights. Their trips to Bikini Atoll in the Mar...

More Liveaboard Details
Micronesia
The Federated States of Micronesia is located in the Northwestern Pacific Ocean. The country is consists of 600 islands. However, Scuba diving is concentrated primarily on three of these islands. Here biodiversity is truly enormous. As a result, over 1,500 species of fish and 700 species of coral exist. Besides outstanding scuba diving, the country offers palm-shaded beaches, ancient ruins, WWII a...

More Destination Details
Prices starting at:
USD $ 3200
Book By:
December 28, 2021