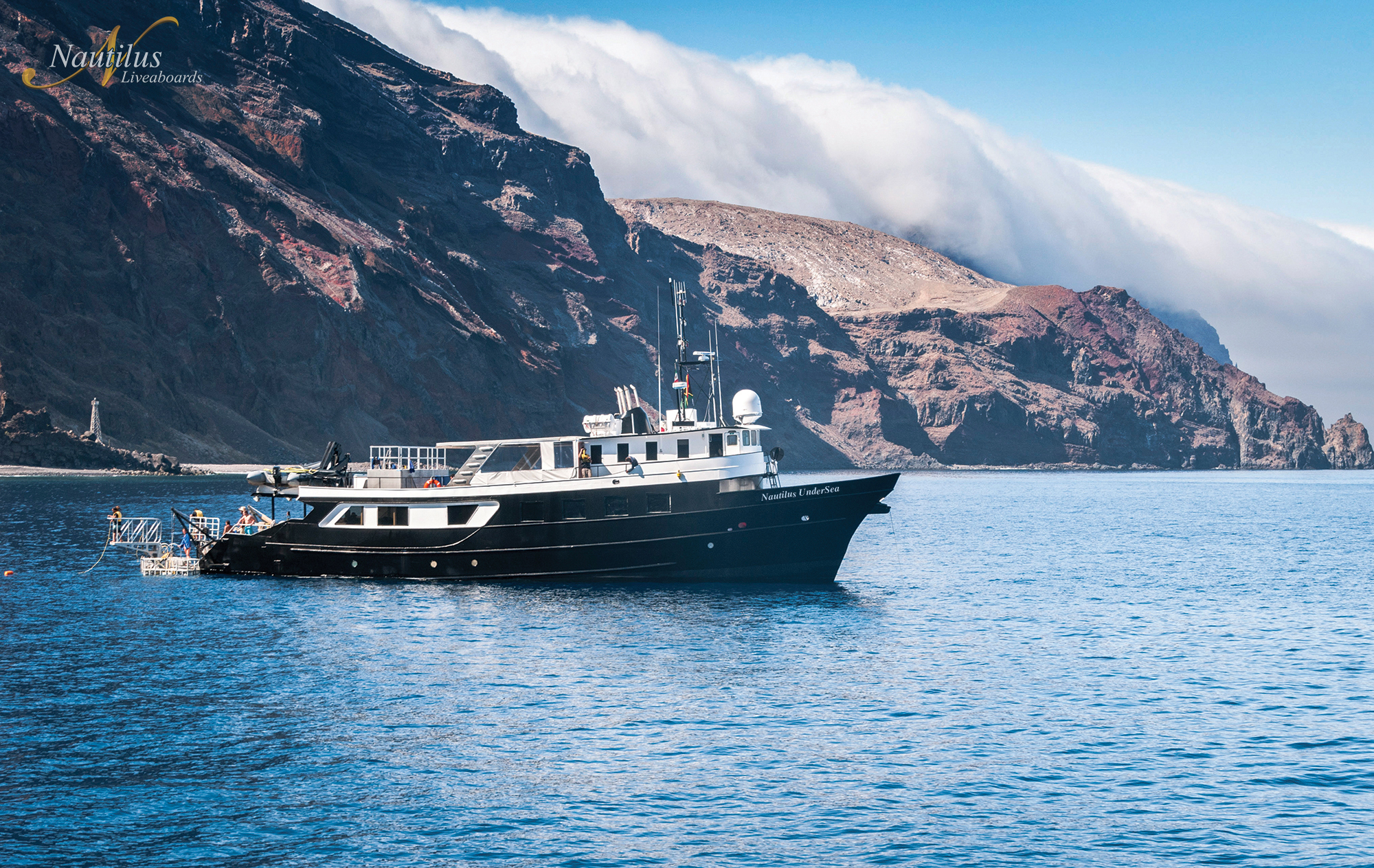 Diving Activities
Cage Diving
Great White/Hammerhead/Tiger Sharks
Manta Rays
Nitrox
Whale Migration
Whale Shark
See More Diving Activities
Package
Details
Liveaboard
Details
Destination
Details
Traveler
Reviews
Giant Mantas, Sharks & Dolphins!
8 Nights' accommodations, Complimentary Warm Up Dive at See Creatures Cabo San Lucas Before Boarding, All Meals (Continental Breakfast, Lunch, Dinner and Dessert), Non-Alcoholic Beverages and Snacks, 5 Days of Up To 4 Dives Daily Including Use of Nautilus LifeLine, DiveAlert, SMB Safety Sausage, Nautilus Dive Light and Tank Beacon (Please Note That Several Dives May Be Quite Challenging and Not Suitable For Divers Of Lower Experience Levels), Kayaking, Paddle Boards, Shoreline Tours, Humpback Whale Watching (Jan. – Apr.) and End of Trip Slideshow DVD and Onboard Facilities Such as the Hot Tub and Lounge (Not Included 5% Tax, $65 Port Fee and Marine Park Fees)
Travel Period: Thru Dec. 30, 2021
Price and Room Selections:
$3295 – $3595 Stateroom (Double Occupancy)
$2995 – $3195 Stateroom (Triple Occupancy)
$3795 – $4095 Superior Suite (Double Occupancy)
$4395 – $4695 Premium Suite (Double Occupancy)
Expires at 2:00pm on Monday December 20th, 2021
Nautilus Liveaboards
Nautilus Liveaboards offers 3 main scuba diving excursions from Mexico. So, Guadalupe Island offers Great Whites. Moreover, Socorro offers giant mantas, 10 species of sharks, and occasional pods of dolphins. Furthermore, the Sea of Cortez/Cabo Pulmo offers bull sharks, seals, and possibly even Humbolt squids. Enjoy our blog article Cage Diving with Great White Sharks. Nautilus Liveaboard Diving ...

More Liveaboard Details
Mexico
Mexico is a culturally and historically rich country. It's located in the southern portion of North America. Thus, Mexico is the sixth-most visited country in the world. A population of 120 million people means it's the world's largest Spanish speaking country. The advanced Mayan civilization originated in the Yucatan area of what is now Mexico around 2600 BC. Scuba diving is widespread in the...

More Destination Details
Prices starting at:
USD $ 2995
Book By:
December 20, 2021