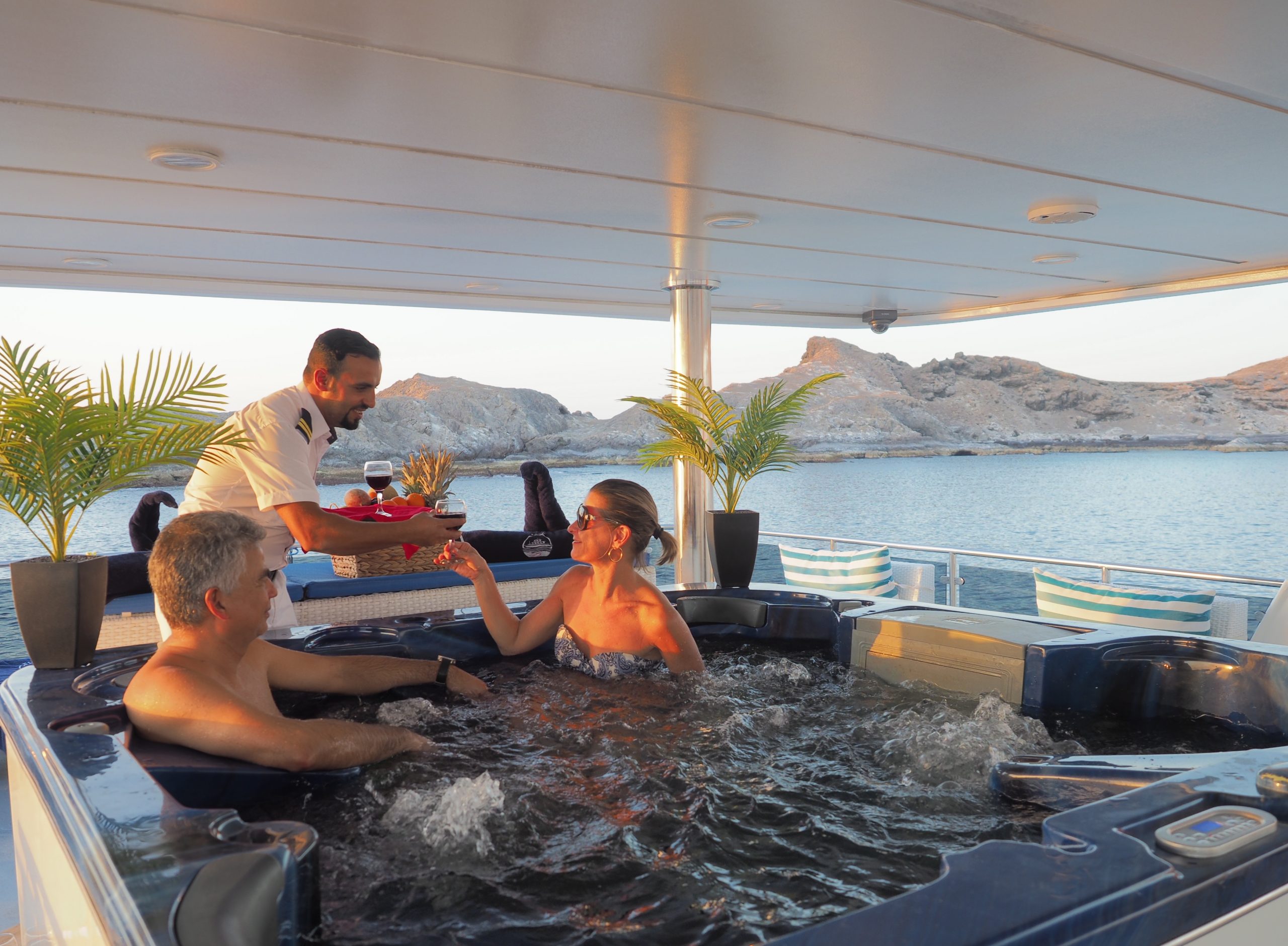 Package
Details
Liveaboard
Details
Destination
Details
Traveler
Reviews
Accommodations, All Meals (Except Final Evening Dinner), Snacks, Non-Alcoholic Beverages, Local Beer and Wine, Average of Up To 25 Dives Including Night Dives (Not Included Port and Park Fees)
7 Nights Itinerary
Travel Period: Sep. 28, 2021 – Jan. 06, 2024
Price and Room Selections:
$2999 Deluxe (Double Occupancy)
$3099 Master (Double Occupancy)
$3199 Suite (Double Occupancy)
10 Nights Itinerary
Travel Period: Sep. 28, 2021 – Dec. 31, 2023
Price and Room Selections:
$4285 Deluxe (Double Occupancy)
$4427 Master (Double Occupancy)
$4570 Suite (Double Occupancy)
**Money Saving Discounts and Single Occupancy Rates Available for Those Who Qualify – Call For Details**
Expires at 2:00pm on Thursday December 26th, 2024
Oman Aggressor
Oman Aggressor is a spacious 148ft long scuba diving liveaboard. The vessel has 11 guest cabins for a total of 22 guests and 13 crew members. So, there are 8 Deluxe Staterooms, 2 Master Staterooms, and 1 Suite. The rooms either have 2 single beds or 1 king bed. Each cabin has air conditioning, ensuite bathroom, hair dryer, and 32" flat screen TV. The yacht has two main unique itineraries to choose...

More Liveaboard Details
Oman
The Sultanate of Oman is the oldest independent state adjacent to the Arabian Sea.  They accepted Islam in the 7th century AD. Moreover, earlier local inhabitants used stone tools similar to those from the Horn of Africa. The ancient tools from one site are aged at over 106,000 years old.  The Arabian Sea and Gulf of Oman provide unparalleled scuba diving around large coral reefs in the deep fjo...

More Destination Details
Prices starting at:
USD $ 2999
Book By:
December 26, 2024