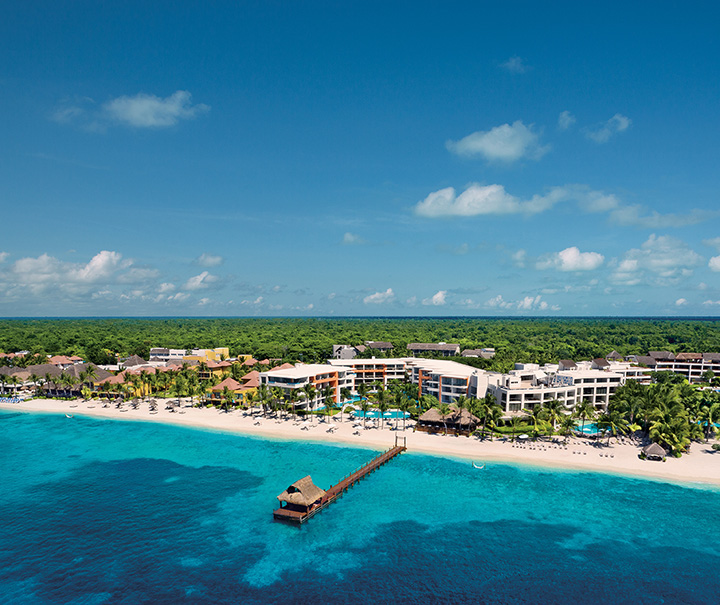 Package
Details
Resort
Details
Destination
Details
Traveler
Reviews
50% Off Room Rates!
7 Nights' Adults Only accommodations (Double Occupancy), All Meals and Snacks, All Beverages Including International and Domestic Alcoholic Drinks, $200 Resort Coupon Book*, Daily Daytime Activities and Nightly Entertainment, Free Wi-Fi, 5 Days of 2 Tank Boat Dives, Government Hotel Taxes (Not Included Marine Park Fees) (SYSUNPKG22)
Travel Period: May 18 – Dec. 22, 2022
Prices Starting at $1441
*$200 Resort Coupon Book Not Valid on Group Bookings
**Single Occupancy Rates Available…Contact Us for Rates**
Expires at 2:00pm on Tuesday July 12th, 2022
Secrets Aura Cozumel
Secrets Aura Cozumel in Mexico is an all inclusive scuba diving resort. They offer 266 luxury suites. The suites feature either a king-size bed or two double beds. Each suite also has a private terrace or balcony. Enjoy 24 hour room service. Did we mention music and nightlife? Enjoy our blog article Destination Spotlight: Cozumel, Mexico. Secrets Aura Cozumel Diving The scuba diving boats at Sec...

More Resort Details
Mexico
Mexico is a culturally and historically rich country. It's located in the southern portion of North America. Thus, Mexico is the sixth-most visited country in the world. A population of 120 million people means it's the world's largest Spanish speaking country. The advanced Mayan civilization originated in the Yucatan area of what is now Mexico around 2600 BC. Scuba diving is widespread in the...

More Destination Details
Sean
Secrets is quite an upgrade from Sunscape! The rooms are HUGE! The bathroom's tub is the best scuba gear rinsing tub you'll ever have. The food is far superior to Sunscape and premium booze sure doesn't hurt either. It's also nice to have room service available for those nights when you're feeling lazy after a day of diving and napping by the pool. Would for sure book again.

Michael
Secrets Aura was a nice place. Room and Food were high quality and availability was great. Dive House staff was efficient and safe. Some of the drift dives were quite quick in that the current was raging on a couple of sites. Would be better if more options were offered -- more night dives, a one tank afternoon dive. If you wanted to dive twice, no time for lunch as you had about 1 hour between morning boat and afternoon boat. A later one tank option would be a great addition. The other big negative is that there is no place to wash and dry equipment on the resort. A couple of the restaurants were exceptional and there are many activities for non-divers.

Anna
We loved the resort. It was beautiful; the room, the grounds and the location. Getting preferred package was worth every penny; great room location, mini bar restocked every day plus room service was included. Customer service was fantastic and consistent. Meals were tasty and drinks well balanced. Dive House took excellent care of us. We were matched well on a boat with other experienced divers. Gear was dry and smelled good every day and was set up perfectly. Short boat rides to sites, great divemasters under and above surface. Easy pick up and drop off and they had no issue with me gearing down in water to accommodate me for bad knees and back. There was pretty decent snorkeling in front of the resort. We enjoyed the nightly entertainment and the friendliness of all the staff. We are so going back again!

Terry
The room was spectacular, the view and swim up option was great. The only bad thing was they gave us a room near the lobby and kitchen, pretty noisy. But overall, not to bad. Need to be aware of room location in terms of the resort facilities next time. The overall service, restaurant, food, etc. Excellent. The diving-Excellent

Prices starting at:
USD $ 1441