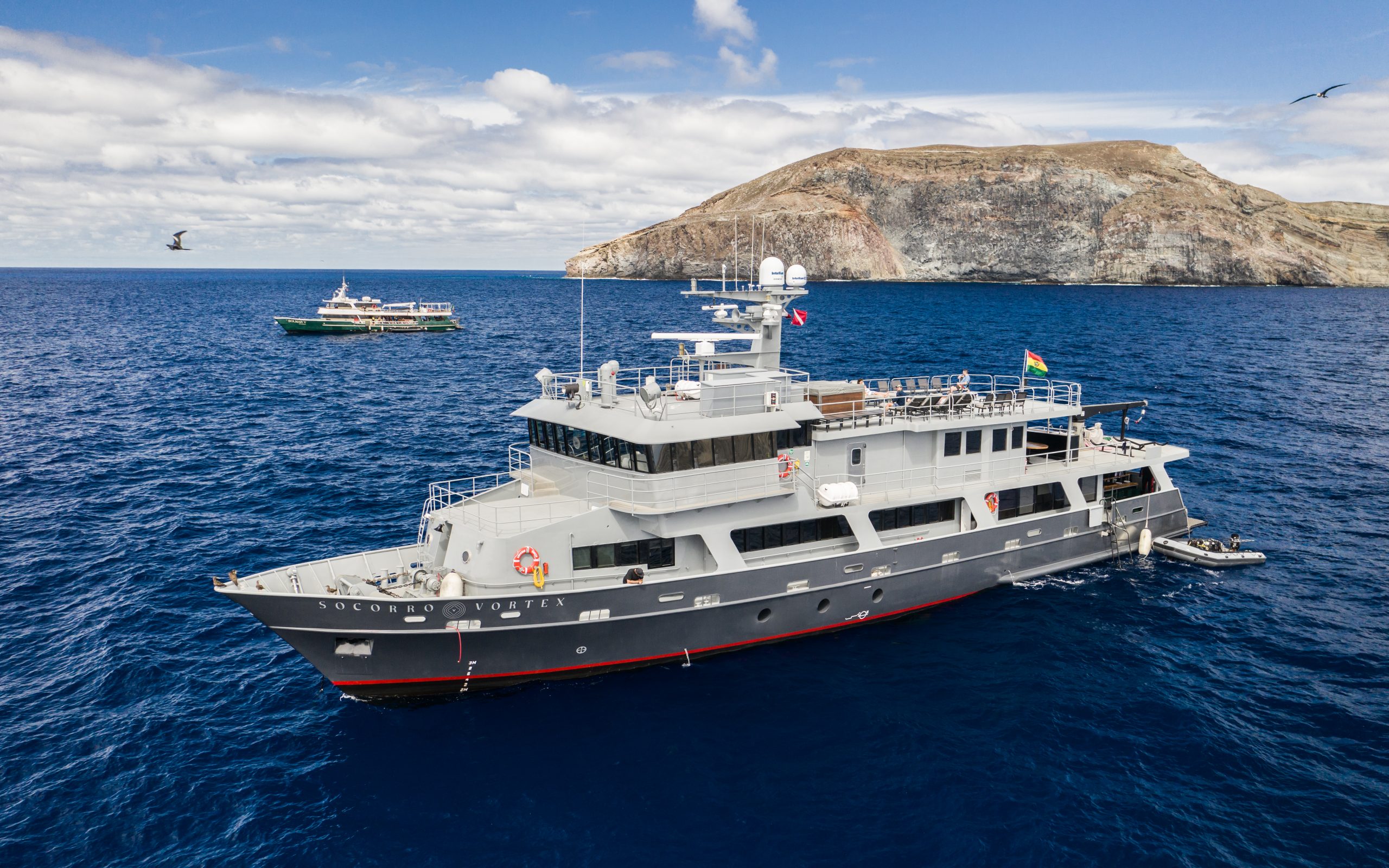 Package
Details
Liveaboard
Details
Destination
Details
Traveler
Reviews
Accommodations, Round Trip Motor Coach Transfers from San Diego, California to the Vortex on First and Last Days of Charter, All Meals and Snacks, All Non-Alcoholic Beverages Plus Beer and Wine, Up to 4 Dives Per Dive Day, Port Fees and Fuel Surcharges (Not Included Government Taxes, National Park fee)
Travel Periods: Nov. 01, 2021 – Jan. 06, 2022
9 Night Itinerary Price and Room Selections:
$6500 Luxury (Double Occupancy)
$11050 Luxury (Single Occupancy Guaranteed)
$7000 Junior (Double Occupancy)
$11900 Junior (Single Occupancy Guaranteed)
$8500 Master (Double Occupancy)
11 Night Itinerary Price and Room Selections:
$8000 Luxury (Double Occupancy)
$13600 Luxury (Single Occupancy Guaranteed)
$8450 Junior (Double Occupancy)
$14365 Junior (Single Occupancy Guaranteed)
$10050 Master (Double Occupancy)
Expires at 2:00pm on Sunday December 26th, 2021
Socorro Vortex
Socorro Vortex is a 140ft long scuba diving liveaboard vessel based in Mexico. The yacht formerly was a Canadian Coast Guard vessel before its recent overhaul and remodel. She now has 7 deluxe cabins and holds up to 14 guests. You would have to look far and wide to find another ship that is this sturdy and new, but more importantly, has such an overall amount of room per guest. They have 4 luxury ...

More Liveaboard Details
Mexico
Mexico is a culturally and historically rich country. It's located in the southern portion of North America. Thus, Mexico is the sixth-most visited country in the world. A population of 120 million people means it's the world's largest Spanish speaking country. The advanced Mayan civilization originated in the Yucatan area of what is now Mexico around 2600 BC. Scuba diving is widespread in the...

More Destination Details
Prices starting at:
USD $ 6500
Book By:
December 26, 2021