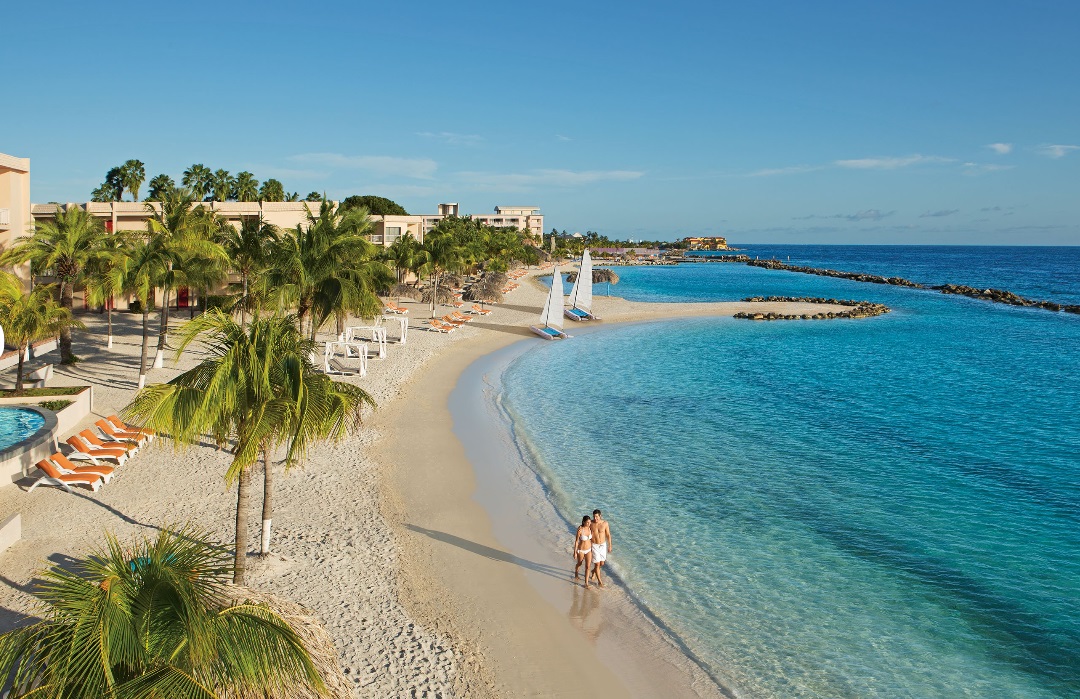 Package
Details
Resort
Details
Destination
Details
Traveler
Reviews
Up to 45% Off All Inclusive Accommodations!
7 Nights' accommodations (Double Occupancy), All Meals, Snacks and Beverages Including House Alcoholic Drinks, Daily Entertainment, 5 Days of 2 Tank Boat Dives and Unlimited Tanks for House Shore Diving with Ocean Encounters, Government Hotel Taxes and Service Charges (SYSUNPK22)
Travel Period: Jun. 06 – De. 22, 2022
6 Room Categories Starting at $1418
**Note**
Single Supplement Rates Available. Contact Us for Rates
**Contact Us For Pricing Based on Specific Room Selection and Travel Dates**
Expires at 2:00pm on Tuesday July 12th, 2022
Sunscape Curacao Resort, Spa & Casino
Sunscape Curacao Resort, Spa & Casino has 341 rooms. This all inclusive scuba diving resort is close to downtown Willemstad and has rooms in multiple styles.  Their Explorer Club for kids 3-12 is packed with activities to keep them active from 8am to 9pm. Enjoy our blog article on Curacao, Can We Say Choices? Sunscape Curacao Resort, Spa & Casino Diving Ocean Encounters is the largest s...

More Resort Details
Curacao
Curacao is a Southern Caribbean island with extensive coral reef formations along its coastline. Because of this, the island is a very attractive scuba diving destination. Curacao's has a semi-arid, sunny climate so diving takes place here all year round. Furthermore, the picturesque European-style architecture contrasts nicely with the islands' tropical vibe. The historic capital Willemstad is a ...

More Destination Details
W.
Nice place but totally disorganized. Rooms are ok. Food good. Staff friendly but mgmt. horrible. Ask 3x for something, hopefully get it. Good diving, friendly dive staff. Make resv. before staying. All the resort staff need to get on the same page. Nice island. Hope to go back someday but probably stay elsewhere.

Terry
The house reef at Sunscape Curacao All-Inclusive was amazing. We dove that reef at least once a day. Ocean Encounters is a first class dive operator. The staff on site at Sunscape were very helpful and gave good information about the shore diving. Their boats and procedures are very well set up for the high seas typical in Curacao and the staff are very friendly, knowledgeable and accommodating. The reefs were very healthy with huge elkhorn and staghorn coral formations. We saw lots of juvenile french angels and even found a tiny post larval spotted trunk. The resort was well maintained and our room was very comfortable. The food at all the restaurants was good. The down time when not diving was very relaxing. We would definitely go back and recommend to anyone.

Scott
Everyone had a good time, Scuba Diving was Good

Janet
We had a great time in Curacao. Our stay at Sunscapes was good - the service and food was excellent. They have 4 restaurants along with one big café. Only the Japanese restaurant takes reservations, so you had to get in line for the steak, seafood & Italian ones usually by 6ish in order to be seated by 6:30. Otherwise the next seating may be around 8 - 8:30! The staff were very friendly & did excellent job. Our room was okay. We paid for the deluxe garden view room - we were in the towers on the main floor and had a view of a service road! The light around our bathroom mirror never worked & I reported in person at the front desk 4 times! The entertainment was good, they had musicians play around 7 - 9 that were excellent. Otherwise the entertainment staff & music was soooo loud. Many other close resorts & entertainment - some that played until 2 am on Sunday & Wednesday nights!! Our room was close to the dive shop so that made it convenient. Diving was excellent!! The coral and sea life were outstanding. The dive masters were friendly, helpful and entertaining. The main dive shop is located at the Lions dive resort, so we were picked up first & dropped off first. Very organized team. Jorge & Karen Maike at our resort were the best! We went on our first Lion fishing dive & the team of 8 divers scored 47 fish. Our dive master, Ruth did an excellent job in the classroom & on the dive. Saw a giant turtle that saw his reflection in the fish eye lens of the professional photographer & may have thought there was another turtle - attacked her even biting her arm (bruise only). Attacked another diver and bite her BCD! Then left with great speed.

Prices starting at:
USD $ 1418