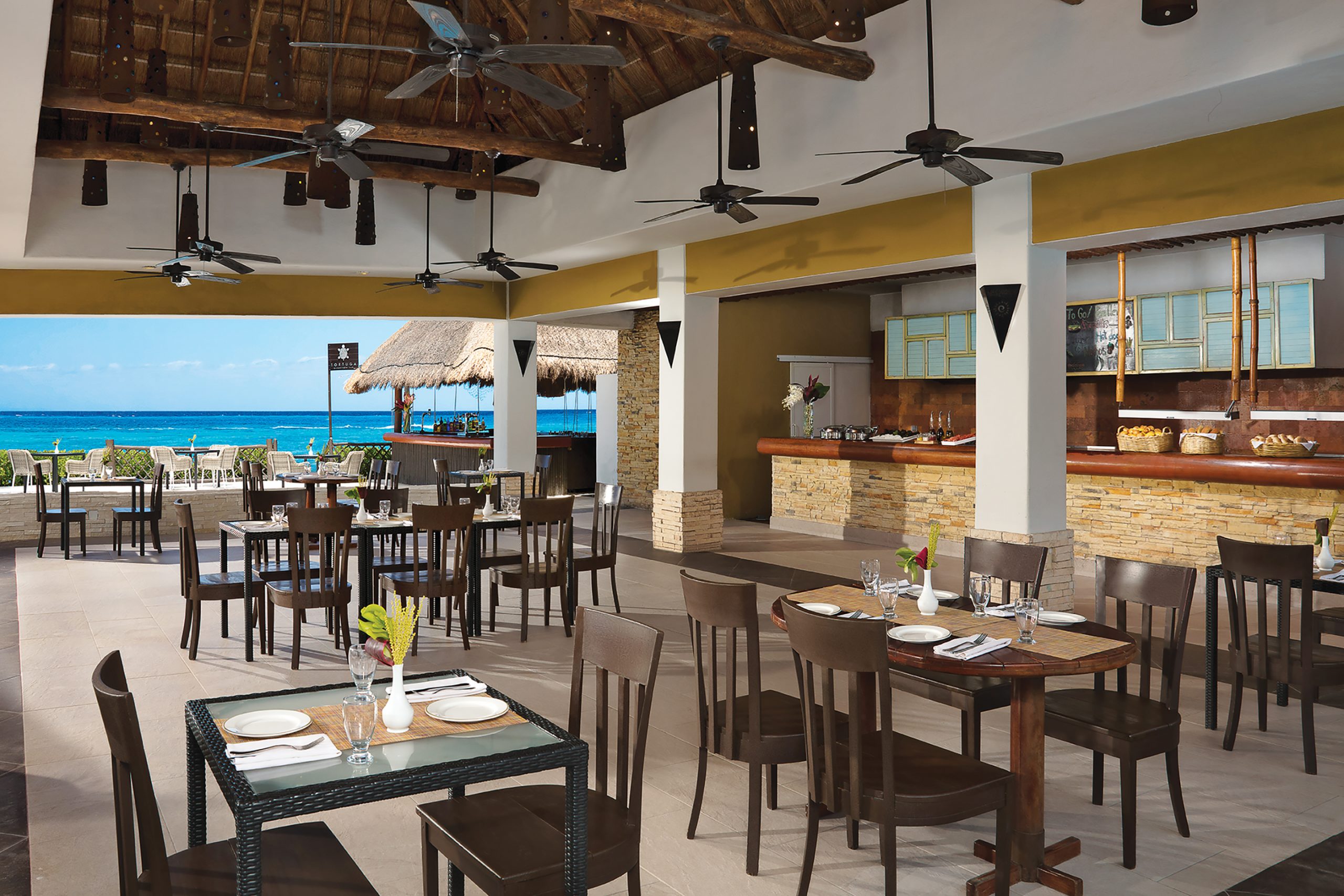 Package
Details
Resort
Details
Destination
Details
Traveler
Reviews
7 Nights' accommodations, All Meals, Snacks and Unlimited Beverages Including International and Domestic House Alcoholic Beverages, Daytime Activities and Nightly Entertainment, 5 Days of 2 Tank Boat Dives with Dive House, Government Hotel Taxes and Service Charges (Not Included Marine Park) (demaspcl)
Travel Period: Dec. 01 – 22, 2023
Price and Room Selections:
$1168 Deluxe Tropical View Dbl or King
$1330 Deluxe Ocean View Dbl
$1338 Deluxe Ocean View King
$1455 Deluxe Ocean Front Dbl
$1464 Deluxe Ocean Front King
Travel Period: Dec. 23, 2023 – Jan. 04, 2024
Price and Room Selections: Contact Us for Custom Package Pricing
Travel Period: Jan. 05 – 31, 2024
Price and Room Selections:
$1267 Deluxe Tropical View Dbl or King
$1455 Deluxe Ocean View Dbl
$1473 Deluxe Ocean View King
$1598 Deluxe Ocean Front Dbl
$1616 Deluxe Ocean Front King
Travel Period: Feb. 01 – Mar. 22, 2024
Price and Room Selections:
$1365 Deluxe Tropical View Dbl or King
$1580 Deluxe Ocean View Dbl
$1598 Deluxe Ocean View King
$1742 Deluxe Ocean Front Dbl
$1751 Deluxe Ocean Front King
Travel Period: Mar. 23 – 30, 2024
Price and Room Selections:
$1321 Deluxe Tropical View Dbl or King
$1527 Deluxe Ocean View Dbl
$1536 Deluxe Ocean View King
$1679 Deluxe Ocean Front Dbl
$1688 Deluxe Ocean Front King
Travel Period: Mar. 31 – Jun. 08, 2024
Price and Room Selections:
$1195 Deluxe Tropical View Dbl or King
$1365 Deluxe Ocean View Dbl
$1374 Deluxe Ocean View King
$1491 Deluxe Ocean Front Dbl
$1500 Deluxe Ocean Front King
Travel Period: Jun. 09 – Aug. 17, 2024
Price and Room Selections:
$1240 Deluxe Tropical View Dbl or King
$1428 Deluxe Ocean View Dbl
$1437 Deluxe Ocean View King
$1562 Deluxe Ocean Front Dbl
$1571 Deluxe Ocean Front King
Travel Period: Aug. 18 – Oct. 26, 2024
Price and Room Selections:
$1106 Deluxe Tropical View Dbl or King
$1259 Deluxe Ocean View Dbl
$1268 Deluxe Ocean View King
$1367 Deluxe Ocean Front Dbl
$1376 Deluxe Ocean Front King
Travel Period: Oct. 27 – Dec. 20, 2024
Price and Room Selections:
$1195 Deluxe Tropical View Dbl or King
$1365 Deluxe Ocean View Dbl
$1374 Deluxe Ocean View King
$1491 Deluxe Ocean Front Dbl
$1500 Deluxe Ocean Front King
Expires at 2:00pm on Friday December 15th, 2023
Sunscape Sabor Cozumel
Sunscape Sabor Cozumel in Mexico is an all inclusive scuba diving resort and offers 128 guest rooms with garden, ocean views.  Enjoy 24 hour room service. They have a Core Zone Teen Club. Even more, did we mention music and nightlife? Enjoy our blog article on Destination Spotlight: Cozumel, Mexico. Sunscape Sabor Cozumel Diving The scuba diving boats take you out to parts of the world's seco...

More Resort Details
Mexico
Mexico is a culturally and historically rich country. It's located in the southern portion of North America. Thus, Mexico is the sixth-most visited country in the world. A population of 120 million people means it's the world's largest Spanish speaking country. The advanced Mayan civilization originated in the Yucatan area of what is now Mexico around 2600 BC. Scuba diving is widespread in the...

More Destination Details
Jonathan B.
Fantastic resort! Easy transportation. Not the most high end location but definitely not lacking anything. Decent food variety, little slim on vegetarian stuff but managed fine! All the restaurants are good. The entertainment is good. The beach is nice. The diving was absolutely amazing! Saw a massive Loggerhead, multiple sharks, tons of fish, nice coral, perfect. The on-site diving/boat pickup is very convenient.

Grace
We had a phenomenal time with the resort and diving! Our divemaster, Gabriel, was fantastic with our group. We had a large range of experience and he was great with everyone. The resort was beautiful and very well kept. The dining was fantastic and service was excellent. I would highly recommend the resort and diving. The only downside was how far the dock was from the dive shop but the staff was willing to take our stuff over and back so it was not a major issue.

Liz
I was a little worried about our trip due to reviews of the restaurant, but my fears we totally unfounded. There were always buffets with many options, everything was fresh. Lots of fruits and veggies. I was also concerned about currents for grandkids, but Dive House was excellent. They also worked to find us sites with little or no currents when possible. Overall a very nice vacation/diving with kids and grandkids. Our beachfront room was in need of some TLC, but a very pleasant setting and clean.

Mike
The dives were Fantastic. The Dive House crew were attentive and considerate, Sunscape was really nice and still don't know if going/ spending the extra for Secrets would be worth it. We all had a lovely time.

Sean
We liked it. Of course, it took us a day or two to get into the rhythm of daily diving at a new place, but it all worked out well. The only thing I would have changed would have been to request a room with 1 queen/king bed. Two beds in our room made it a bit small with all our dive kit, etc. Dive House's DMs were very good. Their tanks? Lots of sizzling O-rings and the tank valves were welded to the cylinders. How do you inspect and maintain a scuba tank if the valve is welded on? Ah, Mexico! :) Check your rig and don't be shy about speaking up!

Barry
Overall rating for Sunscape and Dive House was excellent. A very laid back family oriented resort that was quiet at night. All personnel were cheerful, accommodating, and helpful. Food was good with plenty of choices, the beach environment and pools were a great place to be after a morning of diving. Beautiful sunsets. Diving with Dive House was top notch. Very professional. I liked that each day they asked us if we had any preferences of where WE wanted to Dive and what kind of diving did WE enjoy. We usually dove with groups of between 8-12 and had 1-2 Dive masters depending on size.

Jill
We were very happy with our vacation at Sunscape Sabor. The value for money in terms of accommodations and food and drinks was very good. Not a ton of variety of food, but considering the price we paid, we have a good selection and good food quality. Bars were first rate, every cocktail we tried was good. The diving was very nice as well, we were really pleased with the service provided by the Dive House, they looked after all of our equipment each day which saved us probably an hour a day that we could spend doing other things, that rinsing and drying our equipment. They were also very professional and accommodating. Dives varied with respect to currents (some were really strong) and visibility, but not one could be considered a bad dive for sure. Lots of things to see, especially lobster, toadfish, crabs and of course every ones favorite turtles. The atmosphere at the resort was very laid back, very few "rules". No wrist band required, not reservation needed for restaurants and lots of chairs everywhere, so no need to get up early to get a beach chair. The staff were very friendly and other guests were polite and considerate. I would definitely go back.

Hector
The Sabor was good. No hassle with beach chairs, policy of use or lose after 30 minutes. Nice beach, great bar service; Mexican restaurant very good; Italian restaurant, beside lasagna, forgettable and very limited - white sauce awful; adult only dining site, nice for adults without kids; service excellent, staff very friendly; diving very good and company with hotel excellent with service and assistance; food overall good; breakfasts very good; barbecue's outside at pools, sometimes okay other times badly under cooked meat, chicken, sausage, but burgers okay. Twenty four hour food access, nachos weak; rest decent but limited choices, fries often under cooked. Place is clean and well kept. Entertainment got folks involved; good options for children- activities; water options available at resort; Cozumel was windier and ocean had less visibility then usual but still cannot beat the reefs, formations etc. Saw many nurse sharks, Eagle rays, turtles, eels, and the usual reef fish.

Therese
We had a wonderful time. Sunscape was very nice, the food excellent and all the staff very personable and wonderful. Our rooms were on the beach very close to the water which we loved. We participated in a bike tour which was interesting and used the sailboats on a windy day which was a total gas. The diving was spectacular, huge specimens of eels and groupers, Hawksbills and Laggerhead turtles, beautiful spotted rays. Lots of variety, very good dive masters, small groups. It was our second visit to Cozumel. Absolutely love the drift diving.

Prices starting at:
USD $ 1106
Book By:
December 15, 2023