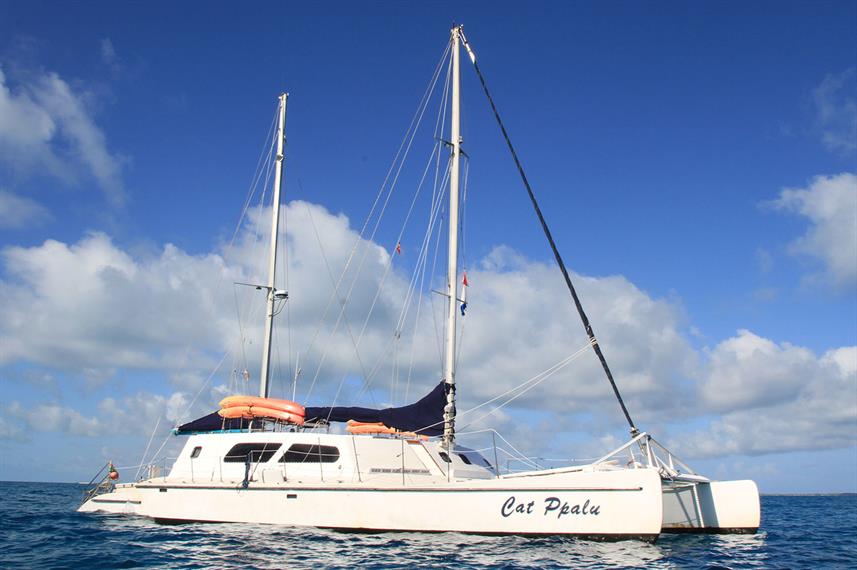 Diving Activities
Drift Diving
Great White/Hammerhead/Tiger Sharks
Wall Diving
Whale Migration
Whale Shark
Wreck Diving
See More Diving Activities
Package
Details
Liveaboard
Details
Destination
Details
Traveler
Reviews
6 Nights' accommodations with Shared Bathrooms and Showers, All Meals and Snacks Including Unlimited Soft Drinks, Lemonade, Beer, Wine and Rum Punch, Up To 19 Dives Including Tanks and Weights, Activities That Might Include: Hiking in Exuma Land and Sea Park, Shelling on Uninhabited Cays, Guided Nature Tours Discovering Native Sea and Shorebirds, Iguanas, Swimming with the Famous Swimming Pigs and Visiting Secluded Beaches, Kayaking Amid Mangroves Plus Paddle Boarding (Not Included Port Fees and Transfers To/From Dock)
Travel Period: Jul. 12 – Dec. 31, 2023 **Select Weeks**
Prices:
$1795 (Double Occupancy)
$2334 (Single Occupancy)
Expires at 2:00pm on Thursday December 21st, 2023
Cat Ppalu
Cat Ppalu is a 60ft long catamaran perfect for scuba diving around the Bahamas. They go from Nasau to the Exuma Cays on 6 night trips. You could get up to 19 day time and night time dives in during the voyage. So, they have 6 double comfortable and spacious cabins for 12 guests. Each cabin has a sink and mirror. There are 2 heads and 2 separate showers to share. Enjoy our blog article on 110,000 R...

More Liveaboard Details
Bahamas
The Bahamas is comprised of over 2,700 islands, rocks and cays formed from coral reefs. Here, scuba diving is accessible from 2200 coastline miles on the Atlantic Ocean. It's an ecological oasis with exceedingly clear water. There are over 1,000 fish, coral, invertebrate and crustacean species. Earlier settlers were the Lucayans, Tainos and Arawak people. Spanish explorers first came to the isla...

More Destination Details
Prices starting at:
USD $ 1795
Book By:
December 21, 2023