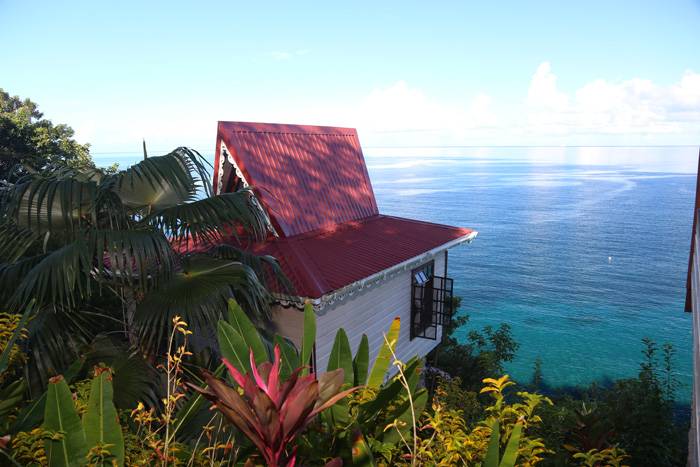 Package
Details
Resort
Details
Destination
Details
Traveler
Reviews
7 Nights' accommodations, Round Trip Airport Transfers, Daily Breakfast, 3 Course Lunch and 3 Course Dinner, House Beverages including House Alcoholic Drinks, 3 Days of 2 Tank Boat Dives, Government Hotel Taxes (Not Included Marine Park Fee Payable Onsite)
Travel Period: Dec. 1, 2023 – Mar. 31, 2024
Price and Room Selections:
$2987 Ocean View Room (Double Occupancy)
$3406 Ocean View Cottage (Double Occupancy)
$3810 Ocean View Cottage w/Plunge Pool (Double Occupancy)
Travel Period: Apr. 1 – Nov. 30, 2024
Price and Room Selections:
$2423 Ocean View Room (Double Occupancy)
$2671 Ocean View Cottage (Double Occupancy)
$2920 Ocean View Cottage w/Plunge Pool (Double Occupancy)
Expires at 2:00pm on Wednesday November 20th, 2024
Ti Kaye Resort & Spa
Ti Kaye Resort & Spa is located on the hillside of Anse Cochon on St. Lucia Island. Scuba diving is done on the beach 166 steps below the resort. They have 33 guest cottages and rooms. This is a 4-star, adults only, resort. So, there are 11 ocean view cottages with their own private plunge pools. 14 ocean view rooms are higher up and further back. Finally, they have 8 ocean view cottages witho...

More Resort Details
St. Lucia
St. Lucia is an Eastern Caribbean island. Scuba diving offers varied experiences because the island lies between the Atlantic and Caribbean Sea. Arawak Indians in 200AD named it Louanalao, meaning Island of the Iguanas. Subsequently, in 800AD the Carib Indians arrived and assimilated their culture. Carib descent can still be found on island today. Similarly, Dutch, French and English settlers bega...

More Destination Details
D.
Ti Kaye and St Lucia is probably one of the nicest places we have ever been...no really...(I know I have said that in the past about other destinations)...LOL...We found that the staff at Ti Kaye were the friendliest I believe we have ever ran across...always eager to help and it felt "genuine", not phony..know what I mean? The resort was very well taken care of. Our room was awesome with a fantastic view. It was clean, and cozy. The outdoor shower was way cool we thought. The food at the restaurant was good...I did think it was a bit pricey...(I do all the cooking at home and can whip up some pretty good stuff so I might be a bit biased). It probably cost us around $80 per night US dollars, for dinner...which we don't mind spending , but back home that's a REALLY awesome meal...know what I mean...No complaints however, just stating the facts.. If I were to grumble about anything it would be the fact that the dive boat did not go out to many dive spots on the days we dove...we kept hearing that they needed at least 4 persons to run 15-20 minutes south where the supposedly "good diving" was. We did not dive every day, and they did go south one day that we didn't go. However, on our last day to dive we were told that we were going beneath the "Pitons" where we really wanted to do a dive...they did have 5 divers on the boat that morning...instead we went out in front of Ti Kaye where we had been diving the barren, dead coral all week long and dove there again...said something about a tropical depression coming in... as I am a Captain and ran charters in the Gulf for years a while back...so I could not really understand why they did not want to put much effort in the diving? There was another guy on the boat from Nashville. He agreed with my statements concerning the diving and actually paid a water taxi to take him south to another dive operator that took him to dive beneath the Pitons. Not being one to complain, I did not let it ruin my day...we actually enjoyed everything about Ti Kaye with the exception of the diving...and that was OK just could have been much better. We actually did not do all of the dives we paid. The resort took care of arranging all of our hiking excursions and various trips, so we did and saw lots. We did not rent a vehicle rather chose to be driven ...which was nice... Ti Kaye is a remotely located resort and you are pretty much stuck there unless you pay for a ride or rent a car. If that bothers you , don't stay there...we enjoyed being away from it all and going in to town when we wanted to..We totally enjoyed the trip and look forward to going again...Once again, the staff ROCKED!!!

Prices starting at:
USD $ 2074
Book By:
November 20, 2024