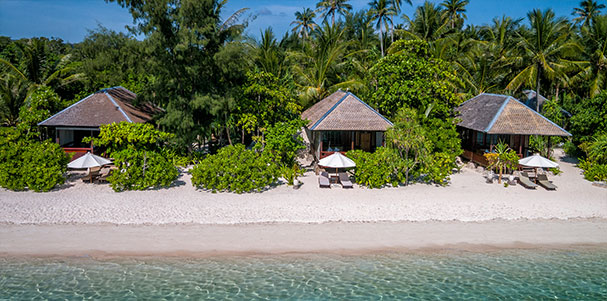 Package
Details
Resort
Details
Destination
Details
Traveler
Reviews
7 Nights' accommodations (Double Occupancy), VIP Greeting and Assistance Upon Arrival in Bali, Round Trip Direct Flight from Bali to Wakatobi Including Pre-Flight VIP Lounge Access and Boat Transfer From Airstrip to Resort, Daily Breakfast, Lunch and Dinner Including Coffees, Teas, Canned Soft Drinks, Hot Chocolate and Drinking Water, 5 Days of 3 Tank Boat Dives and Unlimited Shore Diving with Shore Supervision and Tender Boat Drop Off, Free Nitrox, Optional Village Tour on Last Day and Government Taxes
Travel Periods:
Jul. 14 – Sep. 17, 2023
Nov. 21 – Dec. 17, 2023
Price and Room Selections:
$4480 Palm Bungalow
$5180 Ocean Bungalow
$6930 One Bedroom Villa
Travel Periods:
Dec. 18, 2023 – Jan. 1, 2024
Price and Room Selections:
$4690 Palm Bungalow
$5460 Ocean Bungalow
$7385 One Bedroom Villa
Travel Periods:
Jan. 2 – Mar. 24, 2024
Ap. 9 – Sep. 15, 2024
Nov. 19 – Dec. 15, 2024
Price and Room Selections:
$4635 Palm Bungalow
$5370 Ocean Bungalow
$5895 Turtle Beach Bungalow
$7225 One Bedroom Villa
Travel Periods:
Mar. 25 – Apr. 8, 2024
Sep. 16- Nov. 18, 2024
Dec. 16, 2024 – Jan. 6, 2025
Price and Room Selections:
$4880 Palm Bungalow
$5685 Ocean Bungalow
$6280 Turtle Beach Bungalow
$7715 One Bedroom Villa
Two Bedroom Units Available. Please Contact Us for Custom Package Pricing!
Expires at 2:00pm on Sunday December 15th, 2024
Wakatobi Resort
Wakatobi Resort is located on Onemobaa Island near southeastern Sulawesi Island in Indonesia. It is also home base for Pelagian liveaboard. The house reef is considered one of the best house reefs in the world. So the scuba diving resort has 26 rooms for guests. Their bungalows are considered quite nice, but their villas set right up against the ocean are to die for. The four main islands near her...

More Resort Details
Indonesia
Indonesia in Southeast Asia has 17,000 islands. Hence, scuba diving experiences in its seas and oceans are unrivaled. Subsequently, you can have dive experiences with thousands of marine species. Similarly, expect dazzlingly healthy coral, reefs, muck diving and thrilling drifts. Also, the country has vast areas of wilderness that support a high level of biodiversity. DIVING THE REGIONS OF INDONE...

More Destination Details
Amanda L.
We had the most AMAZING scuba adventure on Wakatobi's Pelagian liveaboard and at the resort. They take care of every detail, and staff knows your name immediately. The diving was fantastic with excellent dive guides.

Amanda L.
Super resort and liveaboard

Prices starting at:
USD $ 4480
Book By:
December 15, 2024