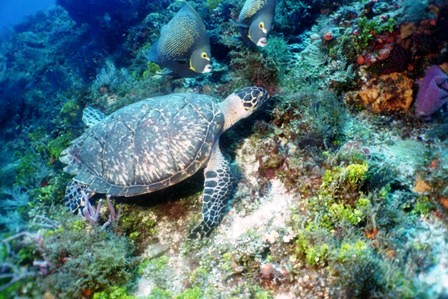 Amenities
Diving Activities
Adventure Activities
Package
Details
Resort
Details
Destination
Details
Traveler
Reviews
OUR WEEK AT THE FIESTA AMERICANA WAS GREAT. HOTEL WAS VERY NICE AND THE FOOD WAS DECENT. POOLS GREAT.
DIVING WAS AS GOOD AS EVER. WE DOVE WITH BLUE XTC DIVING.
Fiesta Americana Cozumel
Fiesta Americana Cozumel is an all inclusive scuba diving resort. They offer 102 rooms. Choose the Standard, Deluxe ocean view, Master suite, or more. Enjoy 24 hour room service. The resort is close to the island's best dive sites. It is also just minutes from San Miguel. Enjoy our  blog article on Destination Spotlight: Cozumel Mexico.  Fiesta Americana Cozumel Diving The dive boats take you ...

More Resort Details
We got back this morning at 1:00. So it was hard getting up and coming into work. We can't say enough for the quality of service and friendliness of the staff at the Fiesta Americana. We will be singing their praises on Trip Advisor. I wish I could say the same thing for the Dive House. It started our very well there, but went downhill. Luckily we only booked 3 days of diving. A diving group from New Jersey that has to be the worse group I have ever encountered. Obnoxious is being kind to describe them! Poor manager dealing with them; was superb at handling them! Hope they aren't there the whole week. I wish there was an easier way to get to Cozumel.We would love to get back to the Fiesta Americana; however, use another source for our diving.
- Bob
OUR WEEK AT THE FIESTA AMERICANA WAS GREAT. HOTEL WAS VERY NICE AND THE FOOD WAS DECENT. POOLS GREAT. DIVING WAS AS GOOD AS EVER. WE DOVE WITH BLUE XTC DIVING.
- J.
Loved the trip. The resort was very nice and the food was good, but not great. Nothing wrong with the food. It's just that in a buffet setting it can only get to a certain point of quality and that is fine. Most evenings we went into town to the local places where they don't speak English and they don't take credit cards. After so many repeat visits we know the places to go. Dive Paradise was amazing as usual. Our regular divemaster is an instructor now and yet he chose to spend a few days on the boat with us and gave up more lucrative teaching to do so. We were given our own boat and crew which was the fastest in their fleet and we flew out to the reefs each morning. We had to start packing up our gear immediately after our second dive since we would be back to the docks so quickly. There were some high winds which lasted for several days and strong enough where the yellow flags were flying. A few whitecap days which made it a bit challenging to climb up that ladder into the boat after dives. They had to throw us a line to haul us all in with the drifting. The visibility which is always stellar in Cozumel was a bit compromised on the more shallow dives because of this weather, but not enough to spoil the experience. My only negative thoughts are in regard to the resort's location. Some may enjoy being that far out and isolated from civilization. We spent a small fortune on cab fares getting in and out of town each day. It would be nice if the resort offered regularly running shuttles for that purpose. With that in mind I believe I will return to Hotel Cozumel on my next trip just for the proximity to town.
- M.
Everything was superlative. We were expecting to negotiate at the desk for the ocean front side of the building but we'd already been given those rooms! Dive Paradise was perfectas always. The water was 83 degrees and we had our own boat with our friend Omar every single day. The tequila selection had been radically upgraded at the hotel since my last visit. All in all, it could not have been improved. It sounds like the hotel will be closing in a month for close to a year. Big renovations and upgrade planned and I have a feeling that these cheap rates and slightly dog-eared premises are going to be an end of an era.
- Roger
Overall, the trip was great. COVID meant that some services at the hotel were not as good as in the past, but it really wasn't a big deal. Staff was great and certainly did a wonderful job. Diving was good, though there were some gray days with rain, and the underwater visibility wasn't as good as in previous trips. Not sure if it was the weather or the time of year (though we've had no issues with visibility on previous Sep. trips), but it was still great! It's unfortunate that Dive House can no longer use FA's pier - we took a taxi into the marina every day, but Dive House paid for it, and it was only a few minutes' drive. DH washed AND DRIED all of our gear and delivered it to us at the hotel on our last day. They always go above and beyond!
All in all, inconveniences were minor. Food at FA was great, and they took great care with masks and other precautions that didn't impact the overall quality of the trip.
- Susan W.
Prices starting at:
USD $