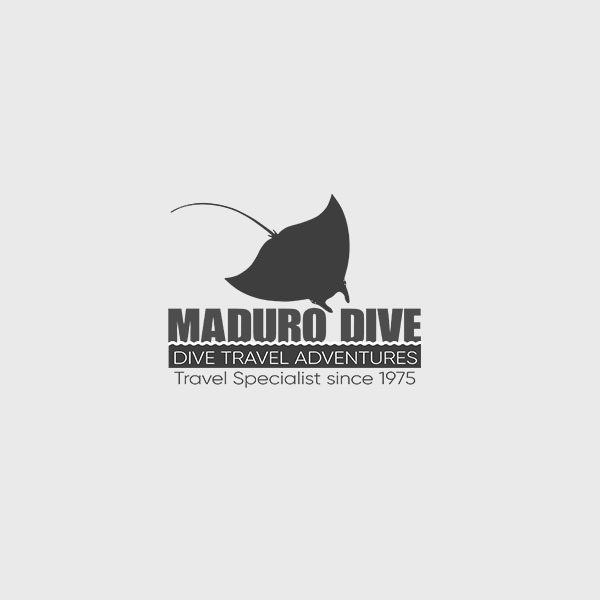 Amenities
Diving Activities
Adventure Activities
Package
Details
Resort
Details
Destination
Details
Traveler
Reviews
Our recent trip to Mexico was overall good. The people were friendly. The resort was good for the purposes. The food was excellent. The employees were friendly and accommodating. The scenery was great, and even though we could not dive the first two days because the wind was very high and the area was closed to all traffic we were allowed to dive the last two days of our trip and enjoyed the services and our dive master. We would suggest the trip to our friends with a clear explanation of the situation. John F. Martin
Scuba Club Cozumel
Scuba Club Cozumel is a Spanish colonial style scuba diving hotel. It was built in 1976 for divers by divers. Furthermore, it has 60 air conditioned rooms. In addition, all rooms have a terrace and most have an ocean view.  Enjoy our blog article Destination Spotlight: Cozumel, Mexico. Scuba Club Cozumel Diving The scuba diving boat dives take you out to Palancar Reef, which is part of the wor...

More Resort Details
We had a wonderful trip! The staff at Scuba Club are as nice as we had remembered. The food was wonderful (we all gained weight). The diving was breathtaking - the boat crew is extremely helpful and our divemaster took us to the best places and showed us amazing things each day! We had wonderful weather too. It was a fantastic trip. The newly renovated Cozumel airport is beautiful and (blessfully) air conditioned now which makes a big difference (when we were there over 15 years ago, it was an open structure and VERY hot)! Thanks for all your help with the trip! I really feel it was an awesome value for the dollar. It is sad to be back to reality, but we will look forward to another trip in the future.
- D
Our trip to Scuba Club was wonderful. We could have not had a better time. Our room was great, the food was wonderful, the staff was great. Our dive instructor for our certification was the best. We did many shore dives and enjoyed them all. We also did 4 boat dives and they were all wonderful. We will be back.
- K.
Our recent trip to Mexico was overall good. The people were friendly. The resort was good for the purposes. The food was excellent. The employees were friendly and accommodating. The scenery was great, and even though we could not dive the first two days because the wind was very high and the area was closed to all traffic we were allowed to dive the last two days of our trip and enjoyed the services and our dive master. We would suggest the trip to our friends with a clear explanation of the situation. John F. Martin
- J.
Scuba Club has not changed its service. It was excellent for those of us who enjoy the sport of scuba. Also, it was a perfect place for my daughter's first dive. We will go again
- J.
The room was clean, spacious, and well set up for divers. I'd only suggest trying to get a ground floor room(which we had) not right near the dive shop (ours was). It was a bit noisy in the AM, but since we were getting up to dive it was all good. Services were also good as was the food. Each day we had a different lunch and that was quite nice. We did dinner on our own, and given how close the Scuba Club is to town, eating dinner out is a better option. The dive operation was good. This is probably a better place for experienced divers not those just certified since the Dive Masters did not routinely check on the group members; which for us was fine. We were able to dive our computers/air, which is what we want. We saw several horse fish, which we'd never seen before and that was a treat. Besides that, lots of reef fish, eels, rays, turtles, and other marine life. All in all we had a very good time.
- Dr. Arthur B.
We had an amazing time. Everyone at the hotel was wonderful and the food was spectacular. Our divemaster Ariel was fun and knowledgeable. We plan to return to Cozumel and will definitely stay with Scuba Club again.
- D.
We stayed at the Scuba Club in October 2013. This place met or exceeded everything that was expected. First visit there and totally loved it. The place is laid out well, great dive and boat personal. Nice rooms with A/C The food was great, and so was the service. Everyone was always there to help you if you needed it. Went on a night dive, and the dining room stayed open later to make sure we all had dinner. On top of all this the Diving was good too.... 85 degree water, with 100+ visibility. I was so impressed with the place, as a dive instructor, I will be trying to put together a group for next year to this place. Also if you can, take the ferry to Playa Del Carmen for the Day and go to an Adventure Park called "Xplor". It is about a 10 minute cab ride from the ferry dock in Playa. A day of fun and enjoyment and worth every penny, and it includes a huge buffet that is open all day. You won't believe how the place is set up. One of the best 10 days I have had in a long time.
- Rich
When we arrived at the resort, everything was in order. We requested an upper room and got the very top one, of which we were pleased. There is no elevator there, which I already knew, but the view was worth the hike up the stairs. The room was immaculate, and the service there was impecible. The dive operation was first class all the way. The dive masters were superior. The entire resort makes every effort to satisfy you always. The staff learned and soon knew our needs before we did. The waiters were the best I have ever encountered. The dive masters did everything in their power to make sure our diving experience was top notch. We are experienced divers and they matched us with fellow experienced divers which was awesome. I spoke with some new divers and they said that they recieved special attention that made their dive experience very safe and felt well cared for. They were very amazed that a dive operation would go to those lengths for them. The bar bill was very reasonable, in fact, we were suprised how low it was.The food was always delicious and we never found the need to eat out. The things that people should consider for Scuba Club are the following: This is a middle class resort, meaning everyone wore tee shirts and shorts. No one wore jewelry or was interested in showing off. This is not the Hilton. The only reason to stay here is diving. There is no TV etc. This is not a honeymoon place unless you are AVID divers. This is not a "party" place. There are other resorts more suited for that. The tip is not included in the package and it is reasonable to tip AT LEAST 15 percent of the cost of your stay upon your departure and they have earned it. We tipped alot more than that and felt that it was totally justified. If I were to rate my experience on a scale of one the ten, I would give this place an eleven.
- Patrick
The dive operators – Scuba Club Cozumel – were a good logistics operation. I have previous diving experience with Scuba Cozumel and each time I have not been disappointed. For example, I wanted to dive Punta Sur – Devil's Throat; dive master to base operations found an opening on one of their other boats and placed me on the dive manifest bound for Punta Sur later in the week. Accommodating, yes Sir Scuba Cozumel is. Hotel (under separate management from the dive operations); a very basic lodging without in-room television or phone service offered. A trendy young couple looking for nightly entertainment maybe content with the sounds of the ocean, quiet discussion, and moments of reflection.
- Henry
The service at the hotel was very good as always. I heard a few minor (valid) complaints about the dive shop operation. They were very busy the first few days – there had been NO diving the previous two days before I arrived and had a lot of pent-up demand. The diving was very good. Besides the dives included in my package, I added the Night Dive (2) combo and did one additional shore dive. Due to the recent winter storms, visibility was not quite as I had expected, but still good – certainly better than any Midwest USA divesites.
- Steve
The trip to Cozumel was superb — we had great diving, with Nestor, our guide-of-choice, super weather, and no problems.
- Cynthia
The Scuba Club Hotel was excellent: the room, food, service, and dive shop. Unfortunately, I was unable to dive as I fell the first night we were there. My face was swollen enough that there was no way I was putting a mask on so I thoroughly enjoyed the view, sitting around the pool, and hanging in the hammocks while my husband and our friends went diving. My husband's dive pictures were fabulous…it was like I was there without getting wet!!! BTW, Mario was so caring; he checked on me as soon as he heard of my fall. We are definitely going back one day.
- Carol
This is one of the best sites you can go to for diving and value. The staff is wonderful and the views are amazing both on land and under the sea. The food here is wonderful and included with your package. All the meals were fantastic. The dining staff goes out of their way to make you feel welcome and special. The dive staff is second to none. There are no TV's or Phones at this property either. They do have wi-fi that is adequate for this part of the world. Highly recommend to anyone wanting a fantastic all around place to go and relax and dive.
- Ross
Great trip. Scuba Club makes a diving vacation very smooth – easy access to lockers, rinse tank, big boats with lots of room; food is good. And nice to have a shore dive option in Cozumel which is rare – no reef but nice critters for night dives. Critters – lots of Octopus, lobster, crabs, stingrays, turtles, shrimps, barracudas, big parrot fish, Morays, groupers.
- Michael
Our Cozumel trip was fantastic! Best diving we have seen in years. The Scuba Club Cozumel was perfect for us - focus on diving, professional dive shop and divemasters as well as great food. The only comment I would have is the lack of a central social meeting place like a lounge or beach bar where people can gather.
- Susan
Everything was great.
- Chris
Some feed back regarding Scuba Club Cozumel: 1. excellent diving with 100 ft+ visibility 2. superb boat captains who mastered their boats under different weather conditions 3. Scuba Cozumel was, usually, all about taking care of the customer 4. dive masters were superb in finding requested sea life, while very conscious about preserving their reef system for decades to come for future divers; I especially appreciated their concern for the frail environment 5. most boat rides were 45 to 70 minutes each way, which I appreciated; for a motion sensitive diver, this may be too long of a boat ride 6. I gladly left a 25% tip because the entire staff provided outstanding service 7. This was my fifth visit to Scuba Club Cozumel. I expect to return again this year. Areas of needed improvement: 1. Divers must be properly educated on every dive by a crew member on how to enter the water, especially in backward roll entries. A boat member crew must also control diver entry so that needless injuries are avoided. During our stay, one diver suffered a head injury by having his head bashed by another diver's tank as she made a blind back roll water entry. 2. My wife almost drown. The near drowning situation was the summation of numerous mistakes made by both my wife and boat crew. My wife failed to check her pressure air gauge before entering the water. The dive crew mounted her gear on a near empty tank that I had used on the previous dive. At a 42 ft depth the air ran out and the buddy system was activated. My wife panicked during the ascent. We surfaced close to the boat and I immediately sent a distress signal. The crew immediately saw the signal but were slow to assist in getting the compromised diver to the boat. I must say that once we got to the the boat, correct quick decisive decisions were made by the crew and my wife was immediately taken by me back down to the bottom as a safety precaution.
- Bruce
We had a fabulous 10 days at Scuba Club. The service, food and diving were as good as we've come to expect. The best dive boat crews around!
- J.
Excellence Plus in every category! GREAT people (You're only as good as your staff) Food is abundant and outstanding (Everyone cut-back after 3-4 days) Well organized in every department, $$ rate makes it super affordable And to top it all off the diving is world class!!
- Tony
Relaxing atmosphere. Staffs from Resort, Restaurant, Dive shop are courteous, helpful and friendly. Room was clean. Food was decent. Need improvement in communication, eg. assigning diver to designated boat. Seemed we need to find out each morning. Dive weights return policy is stringent to the point that we need to lock them up. Also very strange procedure to order food in restaurant. Customer was asked to pre-order food or it was not available. Also, customer was asked to sign a bill at the end of each meal but given no copy of the receipt until last day of leaving and only if we asked for them. How would anyone know if tabs were added by accident? Overall, resort is nice and worthy of a repeat visit.
- Y.
I found the diving, food, destination and vacation satisfying to very satisfying
- Emit
What a wonderful time!! Turtles, Eels, free swimming nurse sharks, squid, pigmy seahorses and lots more! The staff was great, rooms were excellent. The dive boat crew went out of their way to make me comfortable. And the dive masters, well, no words to describe them except WOW!
- E.
All good. . . what's not to like about Scuba Club? Great dive masters, great boat crew, great diving, great accommodations, etc. I've stayed there many times and I keep going back. No photos; just memories.
- Sarah
Scuba Club Cozumel is a great place for a dive vacation. The dive master (Tony) and the boat crew of the Reef Cat were fantastic! I enjoyed every dive. The room I was assigned (13) had a great view of the ocean and pool, a good air conditioner, comfortable bed, a shower with good water pressure showers. There is no TV or WI-Fi in the room, but it did me good to get off the grid for a week. With rare exception, I enjoyed everything I ate, and I never went hungry. This is not a luxury resort, but it is not pretending to be. It is a comfortable, cozy resort with a top notch diving operation. I will be back!!
- Colleen
From the warm welcome of the resort staff, to the wonderful boat layouts and boat crews, amazing underwater scenery, to the extremely helpful restaurant staff. Our entire group of 11 divers had a great time.
- Tom
Our trip was fantastic. The hotel was nice, nothing fancy but we didn't expect or want that. The food was generally good, and sometimes very, very good. The dive crew was excellent. We borrowed my stepson's GoPro and got some really good videos of turtles, morays, sharks, and a nice little lionfish "town" of 5 that I reported after I got my videos. Thank God I insisted on packing my overly long Beuchat Goldfins that I love using in Cozumel- I caught up with a traveling green moray and stayed with him for a while. We would definitely stay at Scuba Club again.
- Kathy
Very good dive operation and fun drift diving. Two couples went for a 10 dive package and in general had a great time. If drift diving is you favorite thing to do underwater this is the place to find all the drifts you ever wanted. The problem is it's all drift and to stop and look at all the creatures that are present is a tough proposition. If you book the all inclusive package you are pretty much on their schedule for breakfast lunch and dinner. Boats leave at 8:30 each morning and return about 1 or 1:30 after two dives. There are extra dives available such as wrecks and night dives but these are extra money not part of the dive package. Tipping is expected for dive crew, dive master, waiters etc so bring enough cash as you can't put that on a card. For two divers figure $250 in tips. Good safe dive operation just not something I would do again although we met several divers that comeback time after time to dive with Scuba Club.
- James
We had a great time on the diving trip in Cozumel. There was only one day where the weather prevented us from going out. We caught that day up on Friday. The food at SCUBA club is very good. The staff is friendly. The facilities are older, but well suited for a diving group. The demographics of the club are a bit older than might have suited my 17yo daughter. She told me that she wanted to be focused on diving this week. The dive sites were great. We saw a lot of fish, eels, turtles, rays, sharks and an overly friendly barracuda. I highly recommend the wreck dive. It's a great ship.
- Ditmars
We keep coming back here for a reason... Exceptional service both at resort and dive center. Great food every meal also.
- Mary
Arrived a couple days after Hurricane Earl. Five days of beautiful weather and great diving. The crew of the Reef Diver and divemaster Francisco could not have been better. The location is excellent. Sixty peso cab ride from the ferry pier. It's a five minute walk to a large grocery/department store (Chedraui) and fifteen minutes to "downtown". Room was nice and clean with a good a/c and comfortable king bed. Plenty of hot water. No problem with the wifi. I like the idea of a 24 hour guard at the gate. My package included breakfast and lunch and the food was excellent.
- B.
I have stayed in three different places in Cozumel. This is by far my favorite. It is set up for divers and is very well managed. The rooms are of good size and clean. The beds were great and my dive buddy and I were very comfortable. We had a balcony that looked over the buildings to the water on the third floor. We were on the three meal a day plan. My dive buddy loved this and was happy not leaving for meals. I would have preferred to explore for dinner and did in fact wander for lunch. I wasn't able to dive because of a sinus infection. The food ranged from okay to good to really wonderful. The dining room was well managed and the staff really wonderful. The dive shop on site was also well run and my dive buddy thought the boat organization worked. People are coming in on different days and we were put with the same group with the same dive master every day. This worked great and was much better than ending up with a different group every day. Nice lockers for gear. Bring own lock.
- Melissa
Overall, very good experience. I was given a room on the 4th floor and the stairs were spiral staircases. Not thrilled but they gave me a room on the ground floor on the 2nd day. Dives and dive-boat crew were superb. Dives were over an hour away though. Resort restaurant was excellent. Great food. No beach, just concrete. Close to down-town shopping and grocery store which was very convenient. Good vacation and good diving but won't be returning to the Scuba Club.
- Nancy
Lost count, but I think this is my 12th visit to Scuba Club Cozumel (SCC). Last three dive trips to SSC were Dec 2015, Feb 2016 and now, Dec. 2016. Can't wait to return. Diving was superb; Nestor was divemaster. Boat crew (captain and dive attendants) were exceptional in service and safety. Mario, the matrade, again ran a delicious meal plan. Room 72 was clean, comfortable, and relaxing. Dive boats varied from fantastic to just okay (diesel fumes). SSC is designed for divers! If you don't dive, then you may want to look elsewhere. Be sure to select the 1 or 2 week vacation option. Meal plan is top notch, and affordably priced!
- Bruce
Everything was 100% satisfying! Great place, good food and fantastic diving !
- Marion
We loved the place, our room, the food, and the diving, lots of turtles, sharks, a couple sea hoses. A rather inexplicable phenomenon was that the sea life seemed to be far more tolerant in terms of getting close - actually startling me a few times. When I discussed with a dive master there he postulated it was because of its status as a sanctuary, but so is Bonaire so I'm not convinced that is the answer.
- Steven
We had a nice trip to Cozumel, unfortunately I came down with the flu on the second day of our vacation, thankfully my sinuses stayed clear so I could dive, but I wasn't feeling well most of the trip. Regarding my impression of the resort - we were originally assigned room 6, it had a lot of street noise and had a bad mildew smell, that was disappointing, but Sophia did everything she could - we stayed there 3 nights, then moved to room 45 which was great. Everyone at the resort was really friendly, we really enjoyed the waiter Fransisco, but everyone was really nice. It was also a nice clientele, everyone was courteous and relaxed. Regarding the food, it was mostly great, there were a couple of things we didn't enjoy, but overall I think it was good - I ate a lot of chicken soup with rice. Regarding the diving - It was mostly good, we had a storm one day and didn't get to go out, the next morning it was still blowing, but it calmed down in the afternoon and we were able to go for an afternoon dive. Cathy and I had been to Cozumel twice before, so we knew what to expect, this was Phil's first time there, I think we were spoiled in Bonaire last summer. Phil enjoyed the swim through and pinnacles, but on the day I was sick, he was put on a beginner boat that did two shallow dives. The boat rides are really long, but that is kind of a trade off too, because it is nice to be close to town when you need something, like cough medicine :(
- Jim
The trip went well and the diving was excellent! I have stayed at the Scuba Club on numerous occasions in the past and the food had really improved and the rooms are the same - clean, and well maintained, We did a dive on a WWII wreck and that was interesting.
- Jim
My wife and I were happy to stay at SCC again. From past experience we knew the rooms would be clean, the food good, and dive service excellent. We were pleasantly surprised to find that the reefs were in somewhat better condition than many other Caribbean locations in that the algae and sea lettuce covered less of the coral. Miguel and Manuel, dive masters on Reef Cat, and their crew were attentive, although they did not conduct a pre- or post-dive role call. They relied on just a head count, which worked for the 15 or 16 divers on the boat each day. I'm sure we will return to SCC in the future!
- Bob
Leaves a lot to be desired
- John
This was our third visit to SCUBA Club over the years. They did not disappoint. The food, the rooms and the diving were up to their usual high standards. A first class operation.
- Michael
Food was better than ever. Our room was large, comfortable, great mattress. Scuba Club just makes everything easy. Staff is helpful and friendly. Great location. Dive operation was good and boats were great. Will definitely go back.
- Patricia
I'd say that Scuba Club Cozumel is a great place to go if you want worry-free diving and nothing else. But beware, it is very slippery! Slick tile and steep stairs. I wouldn't take anyone who isn't steady on their feet.
- Todd
We had a great family scuba diving vacation! The food was great, the service was very nice and professional. The hammocks were almost as good as the diving! We had the best dives with numerous sighting of sea life. We shore dived right in front of the hotel and saw: eels, octopi, Moray eels, star fish, sting rays, lobsters, crabs, cowfish and at night bioluminescent tiny fish! Needless to say we loved it! Of course, we also saw on our dives, turtles, eagle Ray's, reef and nurse sharks, a school of sharks, sting rays and all kinds of fish! This hotel is definitely detail oriented towards divers!
- Jean
The SCUBA operation was very professional and I felt very comfortable which is the most important. Diving was good, but not great. There were a couple of dives on the same site. The rooms are clean, but dark on the inside. We drew the short straw and were directly above the dive shop, but that happens. Waiters and maids did a nice job and was pleased with the service. Food was a B. Lack of coordination between hotel and dive shop was a bit of a negative. Recommendation. Dive shop stocks and sells/rents locks. I am sure I am not the only person to forget and it is a convenience to the divers. I had to make a run which burned up a good ½ hour and was not pleasant. Should be able to make money off this service.
- James
We've stayed many times at Scuba Club. Normally it has been great. This time we were given a terrible room, with a view primarily of the roof of the kitchen. Since we know the resort well because of many previous visits, it would be nice if you could request specific rooms on reservation. Also, the WiFi is terrible and there doesn't seem to be any effort to improve it. Beyond that, the staff is great, food was good, and the diving was terrific.
- Jones
Continued great service by entire staff of scuba club. We look forward to seeing the same friendly faces there every time we go. They are very hard workers and always friendly and upbeat.
- Mary
We had a very pleasant time at Scuba Club. The best part was the room. The "triple" room was spacious and had a large terrace that was the envy of most other guests. We enjoyed sunsets out there every night. The old decorative tile that is everywhere made you feel like you were in Mexico and not in a sanitized resort that could have been anywhere. The restaurant was basic but the service excellent. Everyone was friendly. Breakfast was the least favorite meal (everything in a warming dish ?), but dinners were excellent. You order dinner that morning and there was always a seafood/fish option and a vegetarian option. The dive operation staff was generally unfriendly and sometimes even unhelpful. They seemed to cater to large groups and were indifferent to everyone else. Nitrox was available but unnecessary. Dives were strictly controlled and limited to 50 minutes no matter remaining air/gas supply or available dive time via computer. There is no consideration of diving experience or ability in the groupings on the boat. George and I are both instructors with 2000 dives each over 20 year careers. One diver in our group was certified in December in a great lake and making her first non - training dive. She was with her experienced father but still, we were unable to dive anywhere with current and spent multiple dives at Paradise and Villa Blanca. They are fine dives but it would have been nice to have some variety. There was another couple whose dives numbered in the teens. It was impossible and unadvisable to follow them through swim throughs as they were filled with clouds of sand and silt. On our final 2 days of diving (we added a 6th day), we were subjected to the worst examples of "reef wrecking" ever. The Go Pro camera will be the ruination of coral reefs. One fellow had his on a 2foot selfie stick and between this "wand" and his fins, destroyed everything in front and behind in his path. The DM did nothing to correct his behavior as he laid prone on the reef, getting his prize video. The boat crew was efficient if unfriendly. No one spoke to you on the boat, but there was always one of the crew to take fins or help with climbing on board the boat. Our divemaster always gave a briefing but engaged in no other conversation resulting in boat rides that were long and quiet. The reefs were healthy and we were pleased to see that several near the international pier that had suffered from the construction, seem to be recovering. We would definitely stay at Scuba Club again (room #14 has the terrace) but would go non diver and dive with Dive House. They have always been cognizant of diver ability and grouped divers accordingly. They, at least the last times were dived with them, did not have a 50 minute limit and quietly and effectively corrected damaging behavior on the reef.
- Linda
Comfortable accommodations, excellent food at a great price. Everything you need to concentrate on Diving and Cozumel has some of the nicest diving along the MezoAmerican reef.The dive staff was helpful, friendly and knowledgeable and all of this at a great price.
- Snyder
Scuba Club was the best dive vacation I have ever had. The staff were so happy and helpful especially Fransisco, a waiter there. We went to Chichen Itza one day so we would not receive breakfast or lunch, Fransisco took it upon himself to make sure we had a morning and lunch meal prepared for us with the help of his supervisor, who I can't remember his name. And Miguel our divemaster was outstanding. He took us to a place called Devils Throat, an advanced deep dive of 130ft with long dark caves large Stingrays and Turtles, wow not a place I would trust going with divers I don't know. I think Miguel was very observant with the divers he took under his wing, knowing the expeirience and comfort level of each. He let me and my dive buddy pretty much do our own thing, lag behind to take pictures and such. And as far as a pre dive speech, he would explain what to expect what we would see approximate depth and time, just very detailed with everything. Then while under the water he new where to look to show us all the fantastic creatures in Cozumel, as well as going out of his way to help me get that perfect shot of a Turtle. Thank you very much with your help booking this trip. I will certainly be going back. Oh by the way, Rm#14 has the largest deck. When I go back I will ask for this one again.
- A.
Our family of 6 had a wonderful vacation at Scuba Club Cozumel. The rooms were great and the service was terrific. The included meal plan was convenient with breakfast buffet before the dive boat, and lunch options were delicious. Dinner was a three-course meal with several options for entrée (meat, seafood, pasta and vegetarian). The food was delicious and we overate at every meal! Diving was incredible with sightings of nurse sharks, sea turtles, morays, splendid toadfish, octopus, spotted eagle rays, and so much more. Special treat on the night dive was witnessing the barrel sponges spawning with big clouds of "smoke". Dive team was efficient and great to work with. Dive masters and boat crew made drift diving so easy. Special fiesta for New Year's Eve included a piñata and dinner on the beach with music. And a special chocolate treat left on our pillow! We would definitely return to Scuba Club Cozumel..
- A.
I've been visiting Cozumel generally every year around late July to Aug for about seventeen years and I alway stay at SCC. It's a clean facility specially catering to the recreational diver. For those that love to eat, sleep and dive this place is perfect. The food service is excellent always an abundance of salads and fruits to choose from during breakfast and lunch. Additionally, there's very little turnover of the excellent staff all of which I'm glad to see and greet year after year making this my home away from home. This property has its own dive facilities such that I only leave the property to catch my flight home. The entire island knows which side its bread is buttered on…one time I arrived at the airport to go home and discovered I had lost my passport. I went back to the hotel to check the room and left a message for the front desk to contact the cab company about my missing passport. I went back to the airport again with no passport and within minutes the cabby showed up at the airport with my passport and $100 neatly tucked inside as I left it. It had fallen out of my pocket inside the cab.
- Gary
Scuba Club Cozumel was amazing! The resort was beautiful and clean! The meals where fantastic! And The scuba diving was breath taking!!!! Scuba Club has an A1 dive operation!!! The entire staff there is friendly and helpful! We will be back!
- Kara
Very nice accommodations at Scuba Club Cozumel. The food was awesome. The grounds and buildings are very well kept, very pretty area. Within walking distance to a lot of shops and the local area. Our dive master was amazing. A lot to be seen in the beautiful waters, nurse sharks, eagle rays, turtles, too many beautiful creatures to list. The waters are so clear there. Shore diving is available, which makes it nice. It was an awesome experience and I would recommend going there.
- Luan
The accommodations at Scuba Club and the entire time there was just FANTASTIC!!! Great time, the staff at the hotel was great. Had us all ready to check in and took good care of us the entire week. Thanks for getting us such a great package (dive and hotel) rate!
- M
Easy diving and living at a well run resort. Great service and everything at the resort makes the visit very relaxing. Great crowd of mostly experienced divers. Met my request of 100 cf tanks and the nitrox mix was consistent at 33%
- Robert
We just got back from our trip to the Scuba Club. We had a great time. The arrangements were super. We are interested in going again. We loved the price, the scuba arrangement and the food.
- S.
We made it back from a great trip.  I need to tell you that dollar for dollar Scuba Club is a TREMENDOUS deal.  The resort is spotless, rooms spotless, diving is fabulous and the Staff in ALL areas are top drawer.
- Denny
We had a fantastic time in Cozumel. We dove everyday, mornings were calm and upon surfacing almost everyday the wind would kick up a little. Beginners may have had trouble but we did great.
Very few people at Scuba Club due to Covid, but I like less people. The marine life & coral in my opinion is the best I've seen in Cozumel in years. Probably due to less people (Cruise Ships) in the area. All but 2 dives we saw up close Spotted Eagle Rays. One I got on my GoPro so close that I was worried about the tail hitting me, he didn't even know I was there but he was into the current & I got tired chasing it.
Last dive of morning on Tuesday before we left we came upon a HUGE green turtle who was feeding on shells and coral in 30' of water. Of course my battery died 2 minutes earlier on my GoPro. The dive guide fed it a shell, the group we were diving with was very good and respectful of this amazing animal, so he stayed on coral for several minutes. I stayed in one spot (No Current) and this gentle giant eventually started to swim right at me. His head was the size of a beach ball, I didn't move. He got to within 2'-4' of me turned slightly and went right by me slowly. His front left flipper brushed me face and mask causing no harm. Truly a once in a lifetime for me after doing over 1,900 open water dives since 1990!!!!!!!
Planning on going back around Sept. / October. Above water everything was great also. Covid test was $42 very organized and easy right at Scuba Club. No one even looked or asked for the paperwork on the way home.
- John
Resort was just...okay. I've stay many times before but, little things were overlooked. The pool water was green and unusable, breakfast was the same every day, no variety.
- Kenneth K.
Spent 6 days at Scuba Club. A very comfortable resort. Dive boats are clean and easy access. Quiet a true dive resort. Friendly staff, great food. The only disservice this resort has they stopped serving dinners. It's hard to go into town every night especially for those who want to do night dives. The bar closes at 6 and restaurant closes at 5. That is the only issue I have with this resort. I Really would like this reopened
- Cindy H.
Have traveled to Scuba Club Cozumel since 1990. Always have a great time  - the resort, the staff and the diving - NO COMPLAINTS!
- Janice M.
Cozumel trip was awesome. Great weather, diving, good flights, accommodations, food, etc.
- Joyce
The resort was fantastic and hosted all 29 of us without missing a beat!
- Kenneth K.
Octopus seen on almost every dive. Drift diving in Cozumel, can it get any better? Nurse sharks, dolphins, rays, turtles, dive boat crew was fantastic. Eat sleep dive, had best week ever!
- Gary K.
We had a wonderful time in Scuba Club Cozumel again! Saw all the people from before working there. Tomas, Roberto, Francisco, in the Restaurant. And all the dive masters were there. We asked for Geiser, and Jose made it possible that we dove with him the time we were there. I love Geiser and Jose. Diving was good. Geiser took us to the sides with less current. Current was ripping and we heard that Tony didn't care about this.  But Geiser did and made our vacation great again. We got Room 70 which we had before, and is one of our favorite. Resort was clean as usual, as well as the rooms. Needless to say, we are going again to Cozumel next year. It is still sad, that they don't have dinner. Park Fee went up a lot, but it's for a good cause. Tips went up too. But everybody has to live and eat. All in all, we had a great time again. We are a happy!
- Petra H.
Prices starting at:
USD $