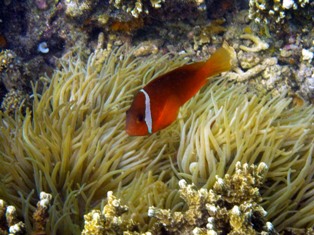 Amenities
Diving Activities
Adventure Activities
Package
Details
Resort
Details
Destination
Details
Traveler
Reviews
We loved it! Had an awesome time diving and snorkeling. The Fijian people are so friendly and welcoming. And the food was great! We definitely want to go back.
Beqa Lagoon Resort
The Beqa Lagoon Resort has 25 deluxe air conditioned villas or bures. This Fijian scuba diving resort is located on 6 acres of lush gardens. Most importantly, you can choose from Beach front, Ocean view, Two bedroom suits, and Koi Pond and Garden Bures. Enjoy our blog article on Where's The World's Greatest Shark dive? Beqa Lagoon Resort Diving The scuba diving resort operates a Shark Dive a...

More Resort Details
I thought the overall trip/experience was a real bargain for the price - which included airfare, lodging, meals and all diving expenses (mostly). The out of pocket expenses were reasonable as well - I thought. Beqa lagoon resort was excellent. It was not too big and impersonal but just the right size to allow familiarity and personal attention. The island/resort location was beautiful and the staff, employees and locals were all friendly and cheerful. The diving was good - this was my first experience diving in the Pacific. Marine life was wonderful - the number and variety of nudibranchs made me want to invest in a nice underwater camera. I saw lionfish and sea snake (firsts for me). Visibility could have been a little better (I here winter has better visib) and the water temp maybe a degree F warmer (it was, 78 - 79 F). Really minor complaints in the overall scheme of things.
- Hillman
Have not had time to write up my trip report, but it was a good trip and the rooms and resort were beautiful. They tell you not to lock your doors and I lost my dive computer. Darn! Food was good some days and some days not. Then in our packet that they mailed like a week before, there were flyers with a lot of the information I was never told which would have been a great help to pass out to my divers at our pre-trip party. Diving was ok, I was not impressed. Shore diving not good at all. UGH. Had lots of fun with the group but there was a big group there from California who practiced unsafe diving in my opinion. I was very surprised that the Divemaster let them get away with it. Like one guy went down blew through a tank of air came back up, strapped on another tank and went back down. Amazing.
- Roberts
The Beqa resort was amazing, great accommadations, great food, great people, the diving was very disappointing. The shark dive was awesome saw a Tiger shark. I would go again based on the resort experience not the diving.
- Wolf
Just wanted to let you know that we thoroughly enjoyed the trip. Beqa Lagoon was the perfect destination for us. The diving was great and the people were wonderful. We were greeted on the beach when we arrived and we felt genuinely welcome throughout our entire stay. They had activities every day that we could participate in and we did choose to do that. Visiting the school was the best experience. The children were so loving and one little girl just wanted to hug me forever. I let them use my camera to take pictures but they always wanted me in them. What a heartwarming experience. The Kava ceremony was also great along with the cooking lesson. I also enjoyed the complimentary foot massage. Food was great, people were wonderful and the manager consistently spoke with us and made us feel even more welcome. Not having locks on the doors was strange to me but after being there I realized there was no need for them. What a great place!!! I even have new facebook friends from the island. Staying for the additional time in Nadi was ok, but nothing to compare to our time in Beqa. If we do this again, I would opt to stay longer at the resort in Beqa.
- Liz
The resort was indeed very nice, with excellent food, service and cleanliness. I am not a beach bunny, so this did not really matter to me, but the beach was stony and not really a place to hang out – that might matter to younger travelers. If one did not dive, there was nothing to do, which, again, might not bother some people who just want to spend time by the pool. I did not have high hopes for the diving, since the diving is in a lagoon...this means lower viz and fewer large animals. The staged shark dives were good. It was an OK trip, which I would not repeat. The transfers et al went very smoothly, but the departure dock from the main island was in poor repair and in a junky area, and was also under water at high tide. Beqa Lagoon Resort gets a lot of repeat dive business, but I am very jaded from 55 years of diving, so consider that when you read this!
- Ralph
I will start with the positive. The people at Beqa (office, divers, captains room staff, grounds and the activities staff) are amazing! The Diving: In order to call yourself a dive resort you need to have DIVE boats. We were left stranded at sea on 2 separate occasions because the starter did not start then after that was fixed..by removing starter and hot-wiring the boat the rest of the week. on the same boat after a bouncy shark-dive the engine seemed to explode a gasket and spew oil all over the deck and most of the passengers who were near the hold. The radio was unable to reach the base station nor were cell phones for a while. We finally got a hold of the resort and they sent out a boat. While waiting I discovered that the boat had no useable tools aboard the boat. The oxygen system is shameful and is not a standard kit and MUST be installed on ALL vessels not just the one with the whiny group leader. We were compensated with free massages and sharkdives. I came to DIVE
- P.
Beqa Lagoon was a little disappointing in the beginning. Our exceptions were high after going to other similar resorts. Diving was good but the boats were not great. Pretty awful actually! Resort needs a face lift badly. I'm guessing 10-15 years ago it was awesome. People were very nice on the island. Glad we went and experienced the beautiful soft coral. Shark dive was quite an experience. I'm not a fan of feeding sharks but the fish you see at the site was spectacular. We did see tiger sharks, reef sharks, white tips and black tips. Saw quite a few sharks just on our dives anyway.
- Lisa
Beqa Lagoon Resort was fabulous. Diving was very good - although unseasonal rains did impact visibility. Their shark dive lived up to the hype with a 12 foot tiger shark actually checking out the row of divers watching her! (Maybe 4 feet away). Resort food was very good to excellent. The most impressive aspect though of the resort was the resort staff. The staff were the most friendly, gracious and helpful group of people I have ever experienced - true wow! (Multiple staff knew our names by the second day - some by the end of the first day). So give them a full star rating.
- Steve
Our first bure on the ocean was very nice but the air conditioner was not effective in cooling off the room. They tried numerous Times to resolve, to no avail. The addition of the large deck, plunge pool and cabana were all wonderful additions. I heard another diver saying she was cold inside her room, so when they were leaving, I asked to move to that room and they agreed. We didn't realize that the room was a 2 bedroom and had an AC unit in each bedroom. The overall service was very good and the villagers were very warm and friendly, for the most part. We brought our video from our 2004 trip to beqa lagoon and showed it to many villagers in the dining room. They we're so excited to recognize many from the village school, fire walkers, and evening entertainers, that we left them the DVD. The food was very good, and portions more than sufficient, but sometimes not served hot. By the second week, we knew which choices were better for lunch and dinner. The diving was great! The soft coral was everywhere, which is what we were hoping for. It did NOT disappoint. We did the shark feeding dive and was excited to have 2 large tiger sharks and thousands of different fish. Blue ribbon eels, juvenile and adult, lots of different nudibranch and flatworms, very active octopus, clownfish and so much more. The safety stops were like being in an aquarium with hundreds and hundreds of fish to keep you company. The boat crew were very accommodating, helping me with my dive gear because of my bad back. Some dive guides were better than others pointing out the various undersea life. Overall the trip was great. The worst part of the trip was the long layovers in Honolulu, which made the flights brutal.
- Janet
Beqa lagoon hotel was fantastic, food incredible, staff friendliest we have met! Enjoyed the extra activities like visiting the village, listening to church choir. The shark dive was world class, best dive we have ever been on. Concerned with safety of diving operations, had bad air one day due to using old compressor. Manager of hotel tried to cover up problem but due to my hubby's insistence and another dive shop leader from Utah dive, it was finally dealt with satisfactorily. Nitrox filling was a mess, they need to improve their diving safety but with current manager, unsure it will happen. The manager wanted us to dive next day without fixing the problem, the dive crew refused to dive away. I think PADI needs to revisit them so I would be reluctant to recommend this venue to your clients until PADI rechecks it. The rooms were gorgeous as well as the grounds but safety first!
- Sheree
We loved it! Had an awesome time diving and snorkeling. The Fijian people are so friendly and welcoming. And the food was great! We definitely want to go back.
- Karen
Beqa Lagoon for Christmas 2018-exceeded our expectations. There were 6 of us and all were pleased with the resort, the food, the staff, and the diving and snorkeling. We will go again.
- Taylor
we had a great time at Beqa Lagoon Resort. We saw new animals, corals and sharks. The staff was very friendly and the accommodations were good. One couple had one of the sea side bures with a plunge pool. They loved the setting. We were in the 4 plex. We enjoyed sitting out on the deck and looking at the main island in the distance. Only 1 1/2 weeks before, they had a strong hurricane hit the island. They had cleaned up most of the grounds but a big tree was still next to the dive shop that it hit. We enjoyed all the local activities that were lined up each afternoon. The local Fijians were so friendly. The only thing we were disappointed with was only getting in 2 dives a day. The boat trips were long. We had a lot of current to have to dive in. That was a new experience for us but also very memorable. We are glad we went.
- Allen
The room was wonderful. Service at the hotel was exceptional. Diving was good, healthy reef but there was no shore diving to speak of. My suggestion to them would be to offer additional afternoon dives by boat for additional cost of course. Divemasters weren't that friendly until the end and didn't socialize with the divers so that was disappointing. Saw a ton of cool little creatures I've never seen before. Shark dive was great too. Clown fish, frogfish, beautiful wrasses, flatworms, nudibranchs, etc.
- Jenny
We loved Beqa Lagoon in Fiji. The resort is terrific. Very nice accommodations, delicious food and the staff is super friendly. Diving was good. The shark dives were definitely the highlights – saw lots of bull sharks and tiger sharks were majestic.
- Matt
Wonderful resort for divers. Clean and super friendly staff. Great service at restaurant and room cleaning. Food was mediocre though they put a lot of effort into it. For snorkeling other than off the beach (which is nice), one has to be proactive to make it happen.
- Nancy M.
Resort is nice, staff very nice. Food was so-so. Snorkeling was good, but limited. Our last stay in a different Fiji resort was much better.
- Shirley G.
Prices starting at:
USD $