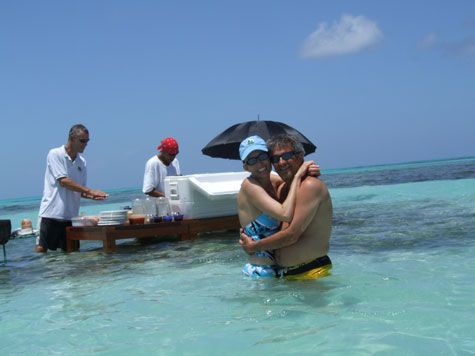 Amenities
Diving Activities
Adventure Activities
Package
Details
Resort
Details
Destination
Details
Traveler
Reviews
My wife works in the airline industry & we fortunately can travel pretty much anywhere we want. We love to find new places & rarely come back to the same destination a second time. We just made our third trip to St George's Caye Resort.
Why 3 times when we could go anywhere in the world? First, it's close enough and easy enough to get to, only a 20 minute boat ride from the main land, but remote enough that we're away from any typical "tourist" activity. The diving is fantastic, some of the best we've ever experienced. The chef and food are is tremendous. The spa, massages, etc. were a great new addition as is the swimming pool.
One of our favorite activities is the BBQ at the sand bar (see photo). Out in the middle of the ocean is a shallow sand bar. They bring out a BBQ and prepare your lunch. It's an experience all in itself.
The trips to the mainland include Cave Tubing, visits to Mayan ruins, Zip Lining and more.
If you want to relax, be pampered & have adventure GO!
Prices starting at:
USD $