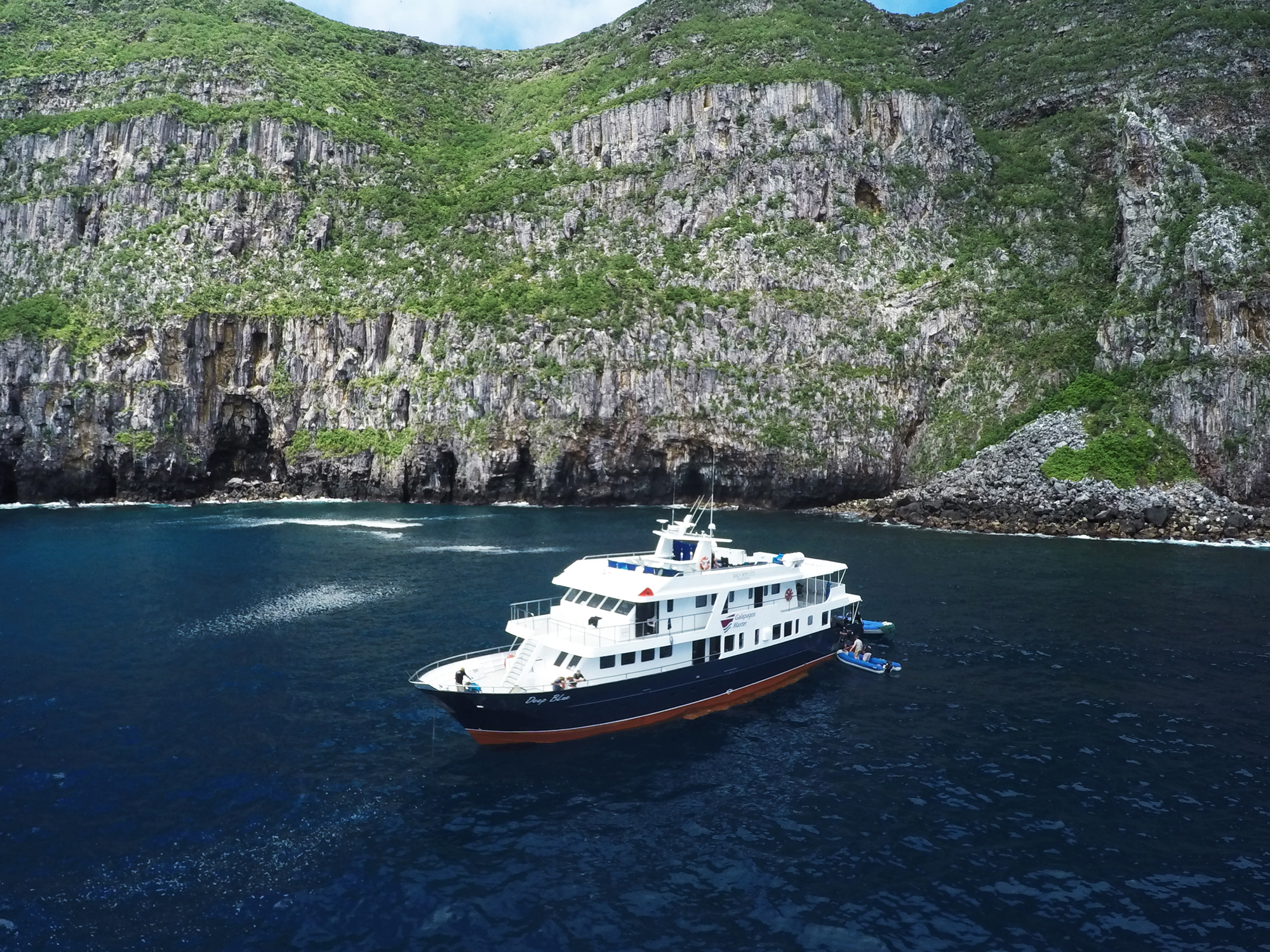 Package
Details
Liveaboard
Details
Destination
Details
Traveler
Reviews
On Board Accommodations (Double Occupancy), Round Trip San Cristobal Airport Transfers, Daily Light Breakfast, Full Breakfast, Lunch and Dinner, Between Dive Snacks and Unlimited Soft Drinks, Fruit Juices, Tea and Coffee While Onboard, Check Out Dive in San Cristobal, Up To 4 Dives Daily Depending on Weather, Optional Land Tours (Not Included Flights, Galapagos National Park Fee, Ingala Transit Control Card and Fuel Surcharge)
7 Nights' Itinerary
Travel Periods:
May 29 – Jun. 05, 2023
Jul. 31 – Aug. 07, 2023
Prices Starting at $6475
Travel Periods:
Feb. 05 – 12, 2024
Mar. 11 – 18, 2024
Apr. 08 – 15, 2024
May 20 – 27, 2024
Jun. 03 – Jul. 08, 2024
Jul. 22 – Aug. 05, 2024
Aug. 26 – Sep. 02, 2024
Dec. 16 – 30, 2024
Prices Starting at $6790
Travel Periods:
Apr. 14 – 21, 2025
Jun. 02 – Jul. 28, 2025
Aug. 04 – Sep. 01, 2025
Sep. 08 – Nov. 24, 2025
Dec. 22 – 29, 2025
Prices Starting at $7140
10 Nights' Itinerary
Travel Periods:
Mar. 02 – 12, 2023
Mar. 30 – Apr. 09, 2023
Apr. 17 – 27, 2023
Dec. 18, 2023 – Jan. 07, 2024
Prices Starting at $9450
Travel Periods:
Jan. 15 – Feb. 04, 2024
Mar. 28 – Apr. 07, 2024
Dec. 30, 2024 – Jan. 09, 2025
Prices Starting at $9900
Travel Periods:
Mar. 06 – 16, 2025
Mar. 24 – Apr. 13, 2025
Apr. 21 – May 11, 2025
Dec. 01 – 21, 2025
Prices Starting at $10,400
Expires at 2:00pm on Friday December 19th, 2025
M/V Galapagos Master
The M/V Galapagos Master is a steel hull 106ft long scuba diving liveaboard. They are based out of San Cristobal in the Galapagos Islands. The vessel was built in 2004 and renovated 2015. They have 9 cabins for a total of 16 guests. The upper deck cabins have large picture windows. Moreover, the cabins have lots of personal storage space as well as ensuite bathrooms. The vessel has air conditionin...

More Liveaboard Details
Galapagos Islands
The Galapagos Islands have led us to a completely new understanding of how species can radiate outwards and fill a wide variety of different niches. So, the name of the islands comes from the Spanish name for the endemic giant tortoises that inhabit the islands. The tortoises on each island have their own particular shell shape exclusively adapted for life on that particular island. Many of the cr...

More Destination Details
Prices starting at:
USD $ 6475
Book By:
December 19, 2025