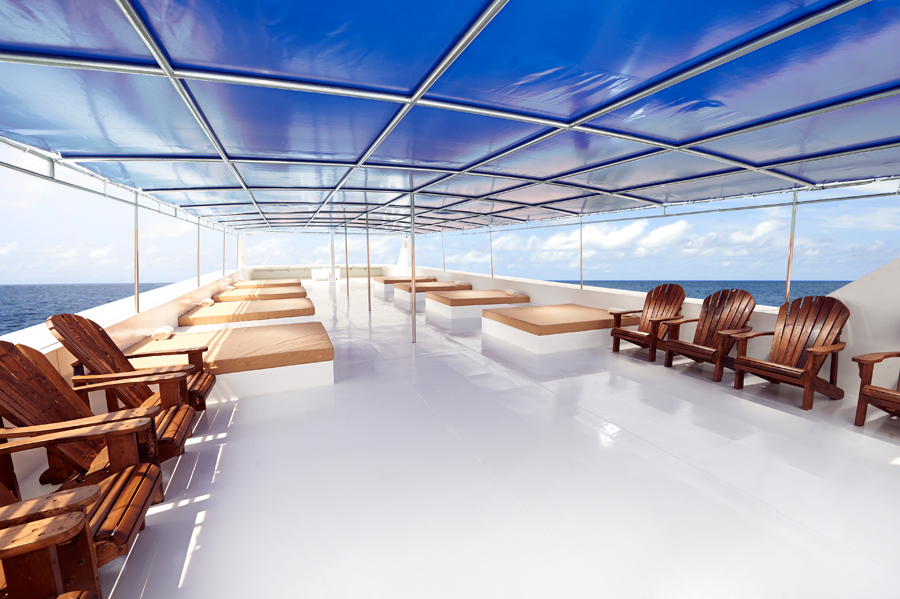 Diving Activities
Drift Diving
Great White/Hammerhead/Tiger Sharks
Macro Life
Manta Rays
Muck Diving
Nitrox
Wall Diving
Whale Shark
Wreck Diving
See More Diving Activities
Package
Details
Liveaboard
Details
Destination
Details
Traveler
Reviews
Raja Ampat & Misool Itinerary!
Stateroom accommodations (Double Occupancy), Round Trip Local Airport Transfers, 3 Meals Daily (Western and Indonesian Cuisine), Snacks, Coffee, Tea and Milo and Soft Drinks, Up To 4 Dives Daily (Weather and Itinerary Permitting), Use of Tanks, Air Fills, Weights and Weight Belt, Towels and Toiletries Available (Not Included Marine Park Fees, Harbor Fees and Fuel Surcharges Where Applicable)
7 Nights' Itinerary
Travel Periods: Jan. 29 – Mar. 10, 2024
Price and Room Selections:
$4050-4250 Upper & Main Deck
$3650-$3850 Lower Deck
8 Nights' Itinerary
Travel Periods: Dec. 03 – 11, 2024
Price and Room Selections:
$4700 Upper & Main Deck
$4300 Lower Deck
Expires at 2:00pm on Thursday November 28th, 2024
KM Blue Manta Explorer
KM Blue Manta Explorer is a large modern 45m long steel hull vessel complete with 14 cabins. The scuba diving yacht traverses the waters of Ambon, Banda Sea, Forgotten Islands, Komodo, and Raja Ampat. The itinerary changes over the course of the year. As a result, your boarding port and de-boarding point may be on different islands. 24-hour satellite internet is available so you can easily stay in...

More Liveaboard Details
Indonesia
Indonesia in Southeast Asia has 17,000 islands. Hence, scuba diving experiences in its seas and oceans are unrivaled. Subsequently, you can have dive experiences with thousands of marine species. Similarly, expect dazzlingly healthy coral, reefs, muck diving and thrilling drifts. Also, the country has vast areas of wilderness that support a high level of biodiversity. DIVING THE REGIONS OF INDONE...

More Destination Details
Prices starting at:
USD $ 3650
Book By:
November 28, 2023