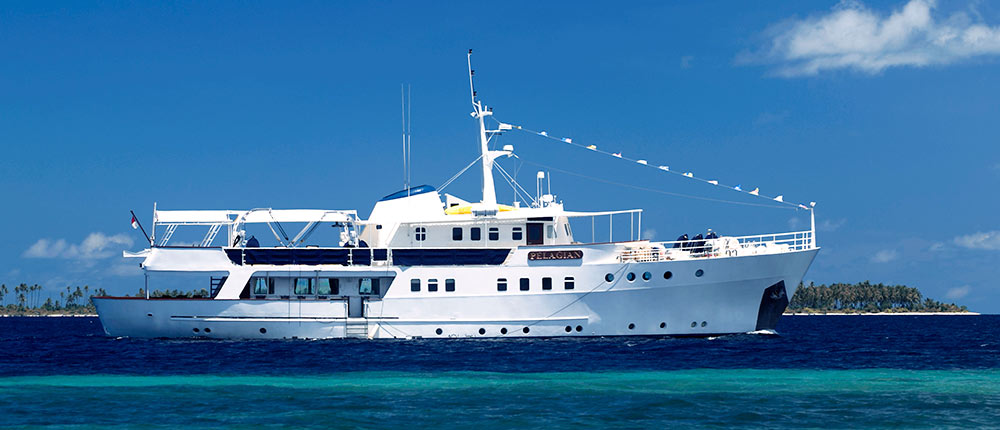 Package
Details
Liveaboard
Details
Destination
Details
Traveler
Reviews
7 Nights' accommodations, VIP Greeting and Assistance Upon Arrival in Bali, Round Trip Direct Flight from Bali to Wakatobi Including Pre-Flight VIP Lounge Access and Boat Transfer From Airstrip to Resort, Daily Breakfast, Lunch, Dinner and Daily Snacks Including Coffees, Teas, Canned Soft Drinks, Hot Chocolate and Drinking Water, 5 Days of 4 Dives Daily Including Free Nitrox for Enriched Air Certified Divers, Optional Village Tour on Last Day and Government Taxes
Travel Period:
Apr. 8 – Sep. 17, 2024
Nov. 18-Dec. 16, 2024
Price and Room Selections:
$4810 Standard Cabin (Double Occupancy)
$6700 Standard Cabin (Single Occupancy)
$5160 Deluxe Cabin (Double Occupancy)
$7505 Deluxe Cabin (Single Occupancy)
$6105 Super-lux Cabin (Double Occupancy)
$8765 Super-lux Cabin (Single Occupancy)
$7085 Master Suite (Double Occupancy)
$10200 Master Suite (Single Occupancy)
Travel Period:
Mar. 25 – Apr. 8, 2024
Sep. 16 – Nov. 18, 2024
Dec. 16, 2024-Jan. 6, 2025
Price and Room Selections:
$5020 Standard Cabin (Double Occupancy)
$7155 Standard Cabin (Single Occupancy)
$5475 Deluxe Cabin (Double Occupancy)
$8030 Deluxe Cabin (Single Occupancy)
$6525 Super-lux Cabin (Double Occupancy)
$9395 Super-lux Cabin (Single Occupancy)
$7610 Master Suite (Double Occupancy)
$11005 Master Suite (Single Occupancy)
Expires at 2:00pm on Monday December 16th, 2024
Pelagian Liveaboard
Pelagian Liveaboard is a 35m/115ft long scuba diving yacht based at Wakatobi Resort. The resort is located on Onemobaa Island which is near the southeastern tip of  Sulawesi Island in Indonesia. The Vessel has five cabins with air conditioning and ensuite bathrooms. So the ship carries 10 guest or divers at a time. Enjoy our blog articles on Frogfish: The Over Looked Camouflage Artist and Cuttlef...

More Liveaboard Details
Indonesia
Indonesia in Southeast Asia has 17,000 islands. Hence, scuba diving experiences in its seas and oceans are unrivaled. Subsequently, you can have dive experiences with thousands of marine species. Similarly, expect dazzlingly healthy coral, reefs, muck diving and thrilling drifts. Also, the country has vast areas of wilderness that support a high level of biodiversity. DIVING THE REGIONS OF INDONE...

More Destination Details
Prices starting at:
USD $ 4810
Book By:
December 16, 2024