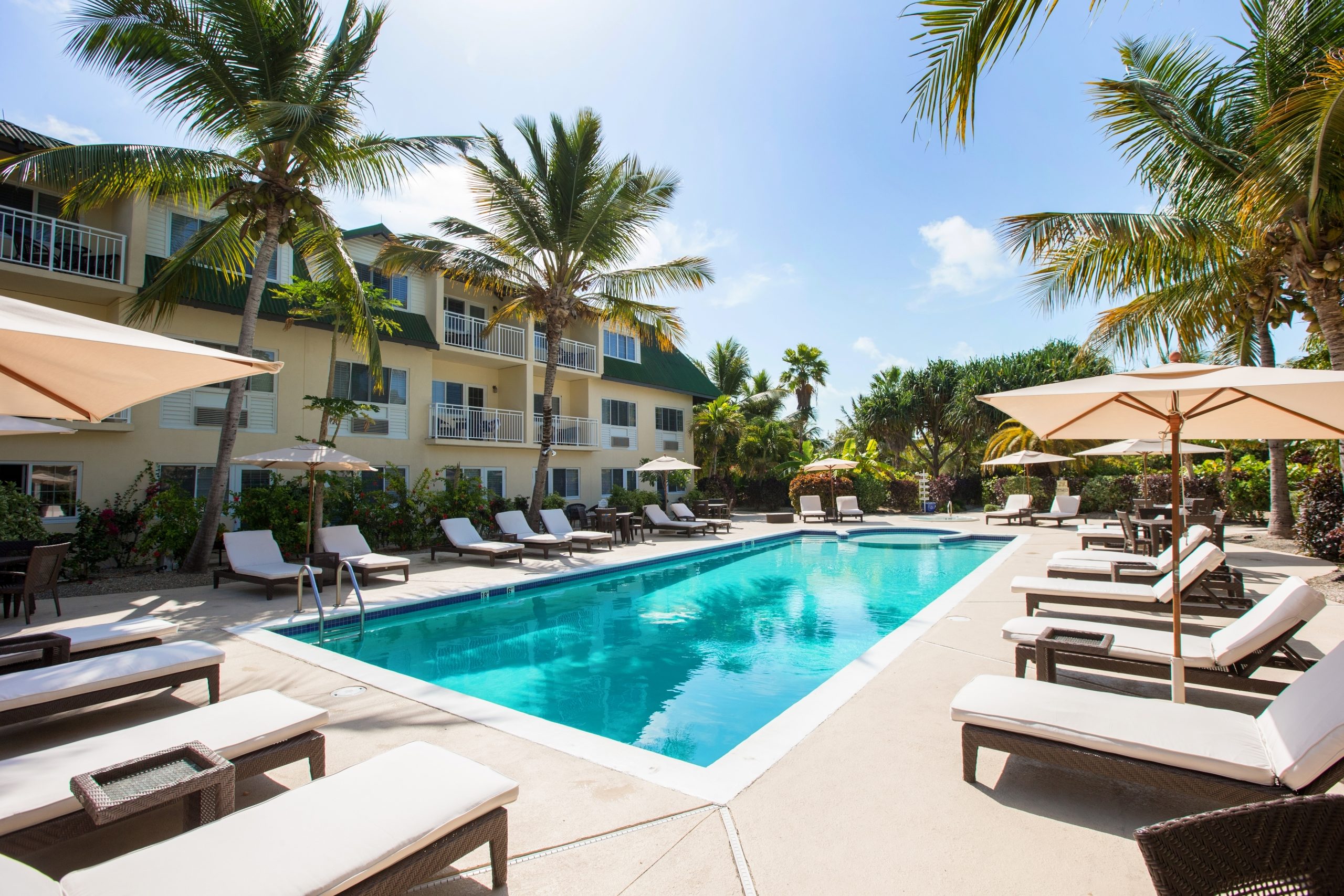 Package
Details
Resort
Details
Destination
Details
Traveler
Reviews
7 Nights' accommodations, Daily Continental Breakfast, Beach Shuttle Service to Ports of Call Section on Grace Bay Beach, Use of Paddleboards, Kayaks and Guest BBQ Pits, 5 Days of 2 Tank Boat Dives, Government Hotel Tax and Service Charges
Travel Period: Jul. 13 – Dec. 21, 2023
Price and Room Selections:
$1989 Standard (Double Occupancy)
$3137 Standard (Single Occupancy)
$1702 Standard (Triple Occupancy)
$1562 Standard (Quad Occupancy)
$2073 Garden View (Double Occupancy)
$3312 Garden View (Single Occupancy)
$1765 Garden View (Triple Occupancy)
$1611 Garden View (Quad Occupancy)
$2164 Pool View (Double Occupancy)
$3494 Pool View (Single Occupancy)
$1821 Pool View (Triple Occupancy)
$1653 Pool View (Quad Occupancy)
$2255 Deluxe W/ Balcony or Terrace (Double Occupancy)
$3669 Deluxe W/Balcony or Terrace (Single Occupancy)
$1884 Deluxe W/Balcony or Terrace (Triple Occupancy)
$1702 Deluxe W/ Balcony or Terrace (Quad Occupancy)
Travel Period: Dec. 22, 2023 – Jan. 4, 2024
Price and Room Selections:
$3018 Standard (Double Occupancy)
$5146 Standard (Single Occupancy)
$2416 Standard (Triple Occupancy)
$2108 Standard (Quad Occupancy)
$3109 Standard Plus (Double Occupancy)
$5328 Standard Plus (Single Occupancy)
$2472 Standard Plus (Triple Occupancy)
$2157 Standard Plus (Quad Occupancy)
$3200 Poolside (Double Occupancy)
$5503 Poolside (Single Occupancy)
$2535 Poolside (Triple Occupancy)
$2199 Poolside (Quad Occupancy)
$3291 Deluxe W/ Balcony or Terrace (Double Occupancy)
$5685 Deluxe W/Balcony or Terrace (Single Occupancy)
$2591 Deluxe W/Balcony or Terrace (Triple Occupancy)
$2241 Deluxe W/ Balcony or Terrace (Quad Occupancy)
Travel Period: Jan. 5 – Apr. 30, 2024
Price and Room Selections:
$2577 Standard (Double Occupancy)
$4257 Standard (Single Occupancy)
$2115 Standard (Triple Occupancy)
$1891 Standard (Quad Occupancy)
$2668 Standard Plus (Double Occupancy)
$4439 Standard Plus (Single Occupancy)
$2178 Standard Plus (Triple Occupancy)
$1933 Standard Plus (Quad Occupancy)
$2752 Poolside (Double Occupancy)
$4614 Poolside (Single Occupancy)
$2234 Poolside (Triple Occupancy)
$1975 Poolside (Quad Occupancy)
$2843 Deluxe W/ Balcony or Terrace (Double Occupancy)
$4796 Deluxe W/Balcony or Terrace (Single Occupancy)
$2297 Deluxe W/Balcony or Terrace (Triple Occupancy)
$2024 Deluxe W/ Balcony or Terrace (Quad Occupancy)
Travel Period: May 1 – Dec. 21, 2024
Price and Room Selections:
$2129 Standard (Double Occupancy)
$3368 Standard (Single Occupancy)
$1821 Standard (Triple Occupancy)
$1667 Standard (Quad Occupancy)
$2220 Standard Plus (Double Occupancy)
$3550 Standard Plus (Single Occupancy)
$1877 Standard Plus (Triple Occupancy)
$1709 Standard Plus (Quad Occupancy)
$2311 Poolside (Double Occupancy)
$3725 Poolside (Single Occupancy)
$1940 Poolside (Triple Occupancy)
$1758 Poolside (Quad Occupancy)
$2402 Deluxe W/ Balcony or Terrace (Double Occupancy)
$3907 Deluxe W/Balcony or Terrace (Single Occupancy)
$1996 Deluxe W/Balcony or Terrace (Triple Occupancy)
$1800 Deluxe W/ Balcony or Terrace (Quad Occupancy)
Expires at 2:00pm on Wednesday December 11th, 2024
Ports of Call Resort
Ports of Call Resort is a scuba diving resort located on the island of Providenciales in the Turks and Caicos. They have 98 suite rooms that come in 3 main styles. The 3-bedroom Villa is perfect for families that would like a 50" flat screen TV. They also have shared access to a plunge pool. 1-bedroom Apartments come with a full kitchen, and come with either a Garden View, Pool View. The Deluxe ...

More Resort Details
Turks & Caicos Islands
The Turks & Caicos Islands consists of the larger Caicos Islands and smaller Turks Islands. Scuba diving predominates on extensive coral reefs that surround the Islands. As a result, there are 700 fish and 60 coral species. This British Overseas Territory is in the Lucayan Archipelago of the northern Caribbean Atlantic Ocean. There are 9 named islands and 90 small islands and uninhabited cays....

More Destination Details
Prices starting at:
USD $ 1562
Book By:
December 11, 2024