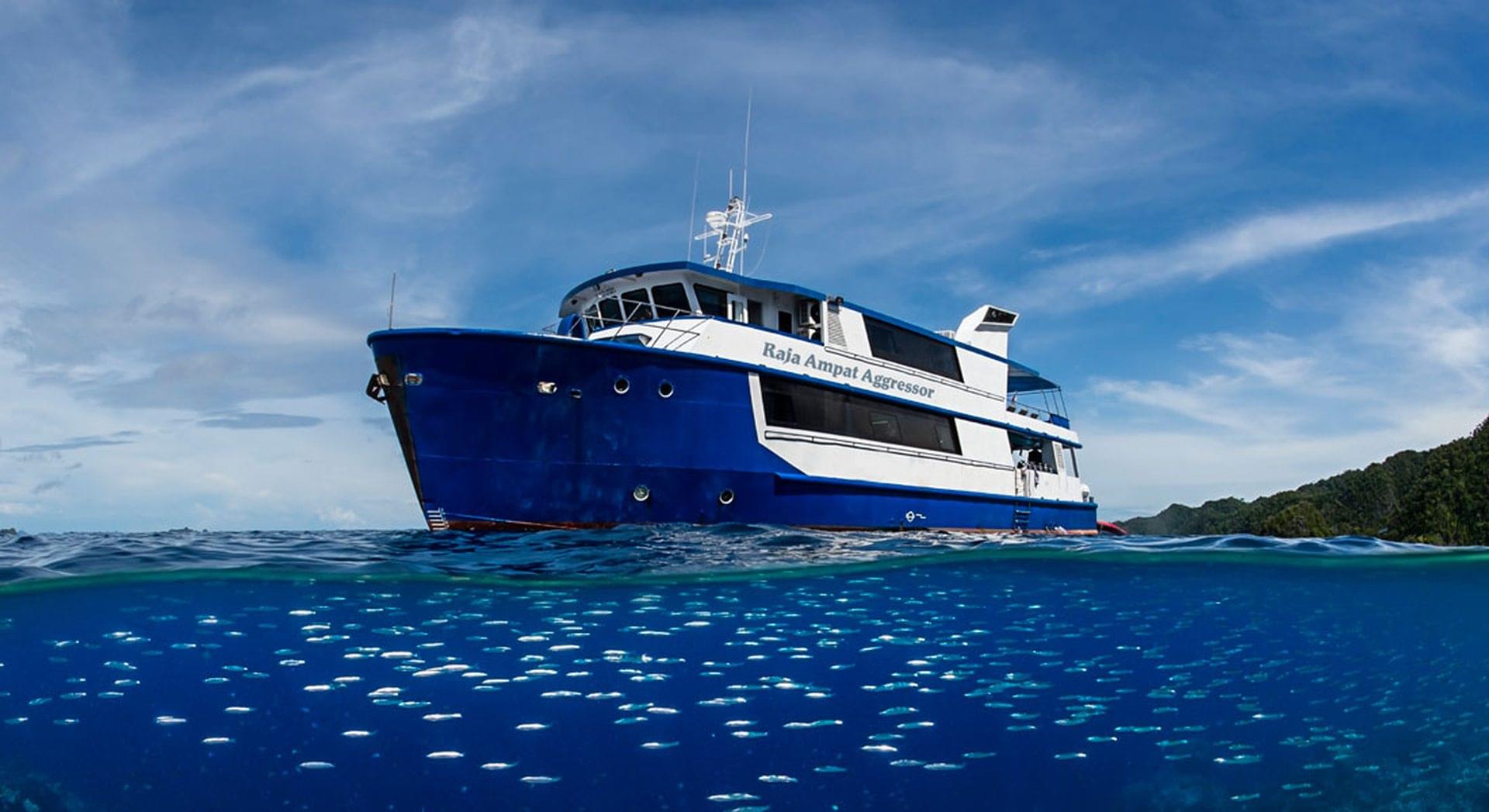 Package
Details
Liveaboard
Details
Destination
Details
Traveler
Reviews
On Board accommodations (Double Occupancy), Round Trip Airport/Local Hotel Transfers, All Meals, Snacks, Non-Alcoholic Beverages, Local Beer and Wine, Average of Up To 22 Dives Including Night Dives and a Land Excursion (Not Included Transfers, Port and Park Fees)
7 Nights' Itinerary
Travel Period: Aug. 9 – Jan. 4, 2026
Price and Room Selections:
$3815 Deluxe
$4130 Master
Travel Period: Jul. 25 – Sep. 2, 2024, Jul. 26 – Sep. 3, 2025
Price and Room Selections:
$3535 Deluxe
$3850 Master
10 & 12 Night Itineraries Also Available!
**Money Saving Discounts and Single Rates Available for Those Who Qualify – Call For Details**
Expires at 2:00pm on Sunday December 24th, 2023
Raja Ampat Aggressor
The Raja Ampat Aggressor is a 100ft long scuba diving vessel. The yacht has 8 cabins for 16 divers/passengers. The ship glides through the waters of mostly eastern Indonesia.  As a result, its main itinerary includes: Raja Ampat, Banda Sea, and Derawan Islands. From April to August they sail to Komodo and Flores Island, Banda Sea/Ring of Fire, Banda Sea/Raja Ampat, and Raja Ampat/Halmahera/Lemb...

More Liveaboard Details
Indonesia
Indonesia in Southeast Asia has 17,000 islands. Hence, scuba diving experiences in its seas and oceans are unrivaled. Subsequently, you can have dive experiences with thousands of marine species. Similarly, expect dazzlingly healthy coral, reefs, muck diving and thrilling drifts. Also, the country has vast areas of wilderness that support a high level of biodiversity. DIVING THE REGIONS OF INDONE...

More Destination Details
Prices starting at:
USD $ 3535
Book By:
December 24, 2023