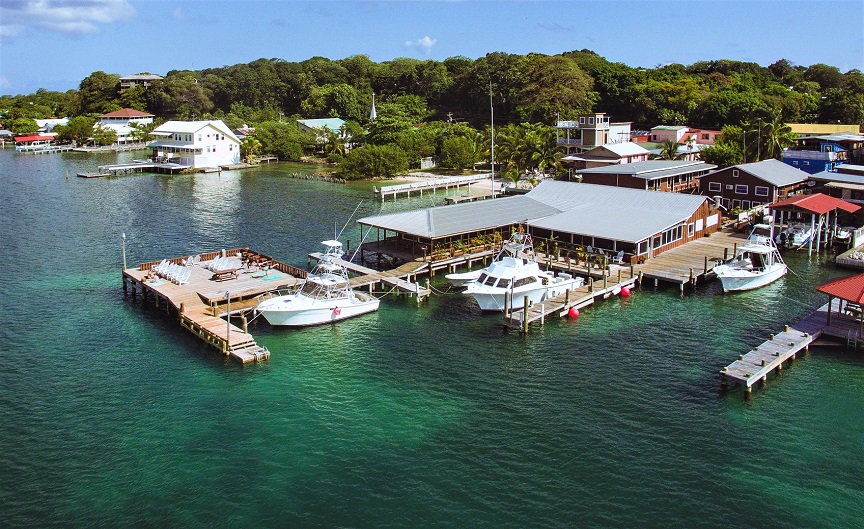 Package
Details
Resort
Details
Destination
Details
Traveler
Reviews
7 Nights' accommodations, Round Trip Utila Airport or Ferry Transfers, Complimentary Welcome Cocktail and Bottle of Wine, 6 Days of 3 Meals Daily, 6 Days of 3 Boat Dives Daily Including 2 Night Dives, Use of Tanks, Weights and Belts, Use of Sea Kayaks, Government Hotel Taxes
Travel Period: Jul. 22 – Dec. 31, 2022
Prices:
$1739 (Double Occupancy)
$2089 (Single Occupancy)
Expires at 2:00pm on Wednesday December 21st, 2022
Utila Lodge Resort
Utila Lodge Resort is the perfect place to stay while scuba diving in the Bay Islands off the coast of Honduras. They have 8 deluxe rooms with queen and double beds. The rooms are built over the water and have private bathrooms and screened porches. Each room has double sinks (his & hers), AC, cable tv, and high speed WIFI. Enjoy out blog article on The Bay Islands Roatán, Útila, Guanaja, an...

More Resort Details
Honduras
Honduras is a Central American country with a long Caribbean Sea coastline. The Bay Islands are a scuba diving destination that's part of the 1,000km-long Mesoamerican Barrier Reef also known as the Great Mayan reef. The reef system is home to more than 65 species of corals, 350 mollusk species and over 500 fish species. In the tropical rainforest, the ancient Mayan ceremonial site Copán has ston...

More Destination Details
Steve
Almost everything about the trip was positive. Flights were all on time, although of course it's luck of the draw flying in and out of Philly in the winter. All pre-arranged transfers went smoothly. Arriving in Utila by rust-bucket ferry and getting picked up in a three-wheeled tuk-tuk was a hoot. Service was uniformly friendly and helpful at both locations. The accommodations at Utila Lodge were more than adequate. The dive operation at Utila Lodge is a bit more funky. The rental gear has seen better days. The boat is big, slow, and departs on island time. What made the Utila diving special was our dive master, Willy. I've never seen anyone as skilled as Willy in finding marine life. Finding the big stuff like turtles and sharks is easy, but Willy had an uncanny ability to find little things in holes, juvenile fish you hardly ever see, and that sort of thing. Diving with him really enhanced the experience. And the boat captain, Albert, was a crackup. We really had fun diving on Utila. We saw eagle rays, dolphins, free-swimming morays, octopi, reef sharks, nurse sharks, barracuda, spiny lobsters, more turtles than we could count, and many, many species of fish, coral, and sponges. The reefs are healthier than I've seen at some other places in the Caribbean. The underwater topography is spectacular, and the abundance of steep walls had the added benefit of allowing diving near the reef at whatever depth was desired. We did shipwreck dives (including the Aguila), night dives, and on Utila a night dive on a shipwreck, which was a real highlight. Visibility across all our dives ranged from 40 feet (rarely) up to more than 100 feet. The only negative, was food and water. We got all our food and drink at Utila Lodge, never venturing out of either resort for meals. Both of us became sick at both locations. It's hard to pinpoint, of course, exactly where these illnesses came from. The resort said that the "filtered water" they provided was safe to drink. After two days of feeling sick at Utila Lodge I stopped drinking the filtered water and switched exclusively to bottled water and soft drinks. I recovered quickly and remained healthy for the rest of the trip. So I suspect the water there. My wife and I have traveled all over the world, and have encountered food and water that gave us trouble in many places. So this is nothing new for us. Digestions that are used to the highly sanitized food and water we have in the U.S. are very sensitive, and minor illnesses in a place like Honduras are hardly surprising. But if there's anything that I think could be improved at Utila Lodge, it would be providing cleaner water and better kitchen hygiene. In summary, we had a fantastic trip. The accommodations were great, and the diving was excellent. I would go back again, and I would recommend the location to friends. If I had it to do over again, the only things I would do differently would be to make sure my wife had all her own dive gear, so she wouldn't have needed to rely on the rental gear at Utila Lodge, and I would stick to bottled water and be a little more careful about what I picked off the menu.

Prices starting at:
USD $ 1739
Book By:
December 21, 2022