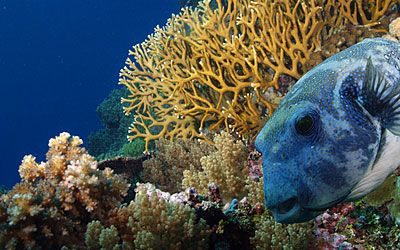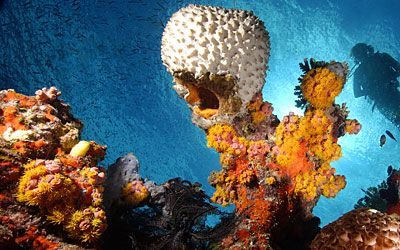 Australia
Queensland and the Great Barrier Reef
There is no other country or continent in the world quite like Australia. The geology of the local rocks goes back some 4.8 billion years, and the land has changed very little since the slow 50-million-year separation from Antarctica which ended 30 mya, "million years ago". The last big change happened 12,000 years ago when glaciers around the world melted and rising oceans filled in two key lowland valleys; one that essentially separated Tasmania from Australia on the southern side, and then again 10,000 to 8,500 years ago when New Guinea became isolated from the north eastern side from the rest of the Australian island-continent. In 1606 Willem Janszoom, a Dutch explorer, named the continent New Holland. Of course, the local indigenous population who had migrated here some 65,000 years prior to the European naming were not consulted. In 1770, Captain Cook took another step forward and named the east coast "New South Wales" and claimed the land for England. By 1817, a map declared the world's smallest continent and the future 6th largest country as "Australia". Later, Europeans settlers brought deadly diseases such as small pox and the Aboriginal population began to decline. Apparently, depending on who you ask, sometime within the last 50 years the country's name was informally changed quite possibly due to some Men at Work to "Down Under", while other Aussies started calling their homeland "Oz".
Queensland, which is one of the six states in Australia and is comparable in size to Mexico, is home to the Gondwana rainforest, forested mountains, deserts, beautiful beaches, some 900 islands, isolated atolls, cays, archipelagos, and basically 1,240 miles of the Great Barrier Reef. To give you some perspective, The Great Barrier Reef could easily stretch out along the entire length of the east coast of the United States from New York to Florida. There is no way to physically visit every dive site along the Great Barrier Reef even on a single prolonged and adventurous excursion. However, we can mention a few favorite dreamtime dive sites that you might like to try while on your next Australian walk about.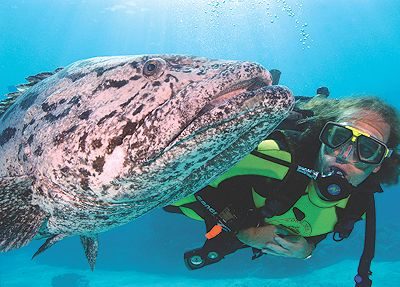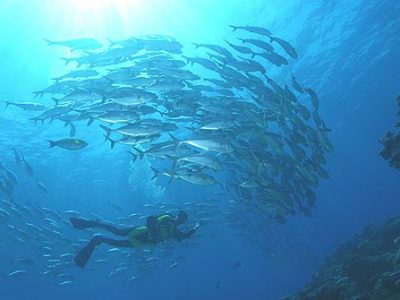 Starting out From Cairns or Lizard Island, you have to take a liveaboard trip out into the Coral Sea to Visit Osprey Reef.  This atoll resting on a seamount has ten dive sites with North Horn being the most famous for feeding sharks and sightings of giant potato cod measuring up to 6ft long. There are more than a dozen different sharks in the area including hammerheads, silkies, nurse sharks, silvertips, and reef sharks. Moreover, Australia is home to 125 species of sharks, 1,500 species of fish, and over 400 species of coral. One of the world's smallest fish, Schindlera brevipinguis is found on Osprey Reef. False Entrance is the place to find large pelagics, such as rays, turtles, Napoleon/Maori Wrasse, and Jack tuna. Just past The Abyss and Big Blue at 2,625ft of depth glass sponges, brachiopods, and stalked sea lilies have been discovered. We should also mention that from June to August you may see dwarf Minke whales here as well as Humpback whales from June to November, and coral spawning's from October to November. Dugongs and mantas don't seem to follow calendars as closely as other aquatic species.
Lizard Island itself is a great place to do a night dive. You can also do day trips to some dozen dive sights including Cod Hole on the northern end of Ribbon Reef on #10 reef.  Here they feed potato cod while flowery cod, yellow tailed fusiliers, red bass, sweetlips, trevalley, and coral trout try to steal the bait. We should also mention Steve's Bommie on reef #3: this pinnacle is full of sea creatures. Pixie Pinnacle is by reef #3. Yonge Reef is another popular dive site you can visit from lizard Island. This is a colorful drift dive and snorkeler site. Dynamite Passage and Big Softy are both wall dives with sharks and pelagics, but big softy has more crevices to explore whereas Dynamite Passage is known for garden eels and cuttlefish.
Closer to Cairns are such notables as Norman Reef, and the two sand cays; Michaelmas and Upolu Cays. Michaelmas does have some flora as well as 20,000 pairs of birds. Fitzroy Island is great for snorkelers and divers for day adventures, and Green Island has several guided only dive sites. Here the visibility can be 9-60ft, whereas while out on the liveaboards visibility can go up to 150ft. South of Cairns is Flynn Reef, Miln Reef, and Flinder's Reef. North of Cairns is Port Douglas and Lord Howe Island and Ball's Pyramid and the 5 Agincourt Ribbon Reefs.
Down near Townsville there is Magnetic Island and the 74 Whitsunday Islands complete with fringing reefs. Hamilton Island is where most of the dive shops are located. Farther south we have Heron Island, Lady Elliot Island and off Bundaberg is the 358ft long SS Yongala which sank in 1911. Just south of here off of Mooloolaba is the HMS Brisbane, a 399ft long destroyer sunk purposely in 2005. South of here we have Brisbane. Off shore, yet close by, is Morton Island and North Stradbroke Island. There are over 20 dive sites here. Stradbroke Island is known for day and night dives at Shag Rock, while Morton Island is known for Gotham City, Cherub's Cave, and the Tagalooma Wrecks.
Besides all the great diving here, you may wish to spend time fossiking: looking at dinosaur fossils on the Capricorn Cave walls, or checking out dinosaur stampede tracks such as those at the Lark Quarry Dinosaur Trackways. Mount Morgan is a great spot for fossiking for gold, or you may wish to take a Sapphire Gemfield tour. You might also like visiting the lone Pine Koala Sanctuary. If you are down on the Sunshine Coast you can visit UnderWater World, or Steve Irwin's Australia Zoo. Now, we didn't mention everything to do in Queensland in this article, but you wouldn't expect to find everything mentioned in one article on a country the size of Mexico either. All the dive sites mentioned here should keep you busy for a couple of vacation stays. After that, there are 5 other states in Australia and you might like to try diving with whale sharks, wobbegong sharks, great white sharks, New Zealand sea lions, and leafy sea dragons.